Sausage Balls made with Bisquick, pork sausage and cheddar are a classic holiday appetizer that your guests will love!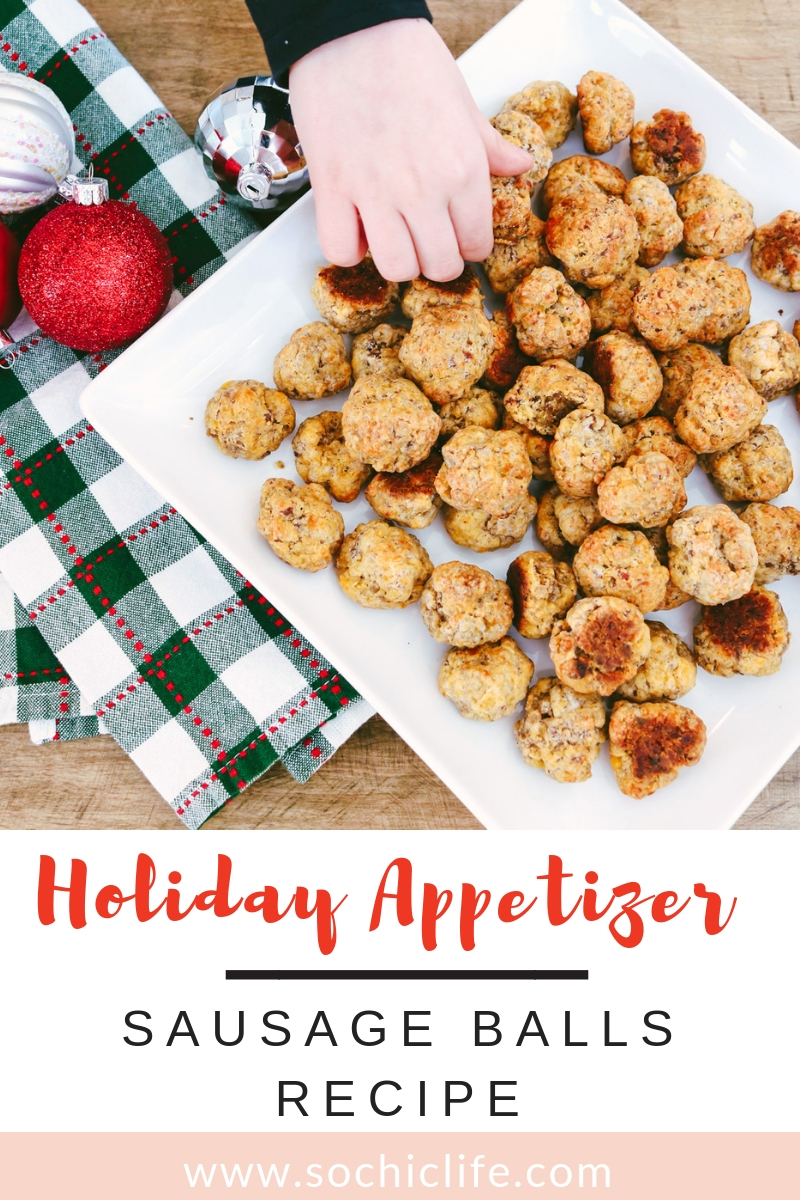 When it comes to holiday traditions, good food is always a top priority. Our family has so many holiday recipes that are tried and true that we never go without preparing this time of year. One that gets requested over and over – Sausage Balls!
Other traditional holiday appetizers we make are chicken liver pate, blue cheese balls, spinach stuffed mushrooms and peanut butter balls. I can't remember a Christmas NOT eating all of these things. Gumbo and fried shrimp are always on the Christmas Eve menu. Even living in Chicago I keep up the tradition serving fresh Gulf shrimp courtesy of my mom!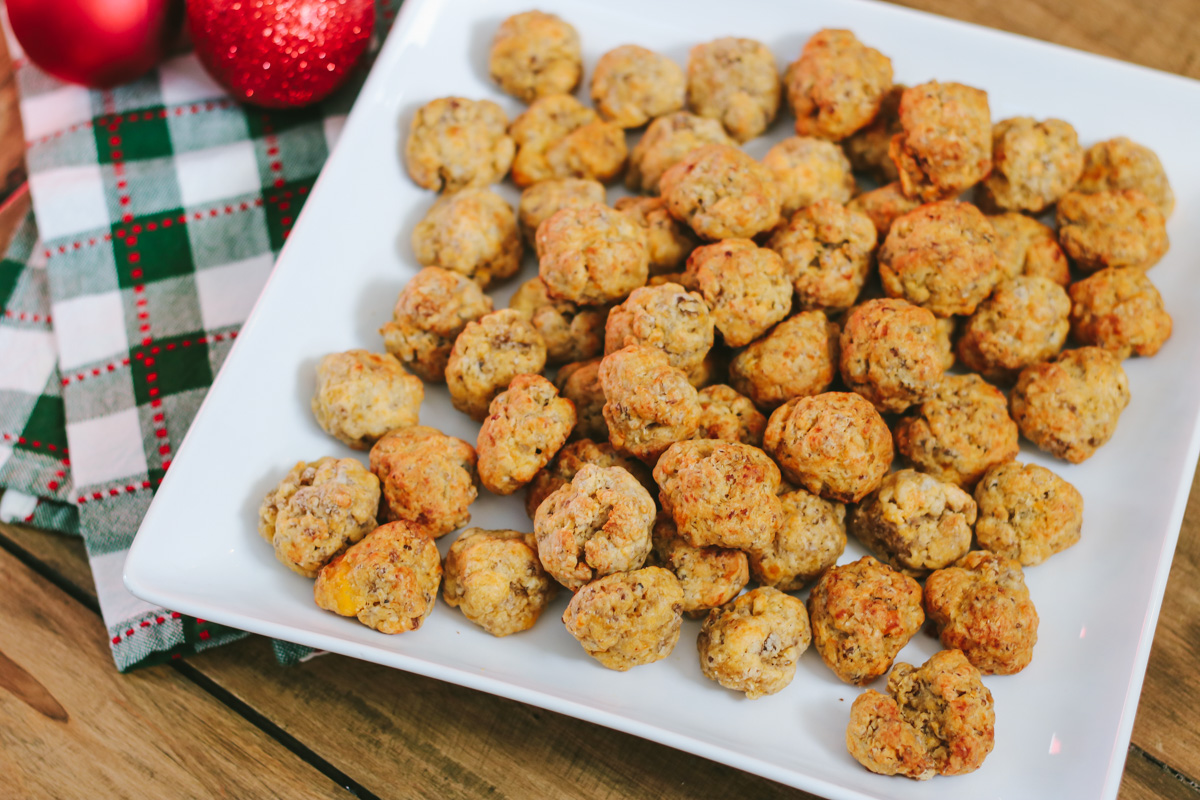 SAUSAGE BALLS RECIPE
Like this recipe? Pin it to your Holiday Entertaining board!
Follow So Chic Life on Pinterest
But Sausage Balls are all about the cheese and Bisquick.
Originally made with Coon cheese or Hoop cheese (yellow cheese with the red rind), sausage balls are a southern tradition.
And NO coon cheese is not meant to be offensive, it's named after Edward Coon. You can read the history here.
Hoop cheese can easily be substituted with sharp cheddar cheese. Works just as well and its easy to find.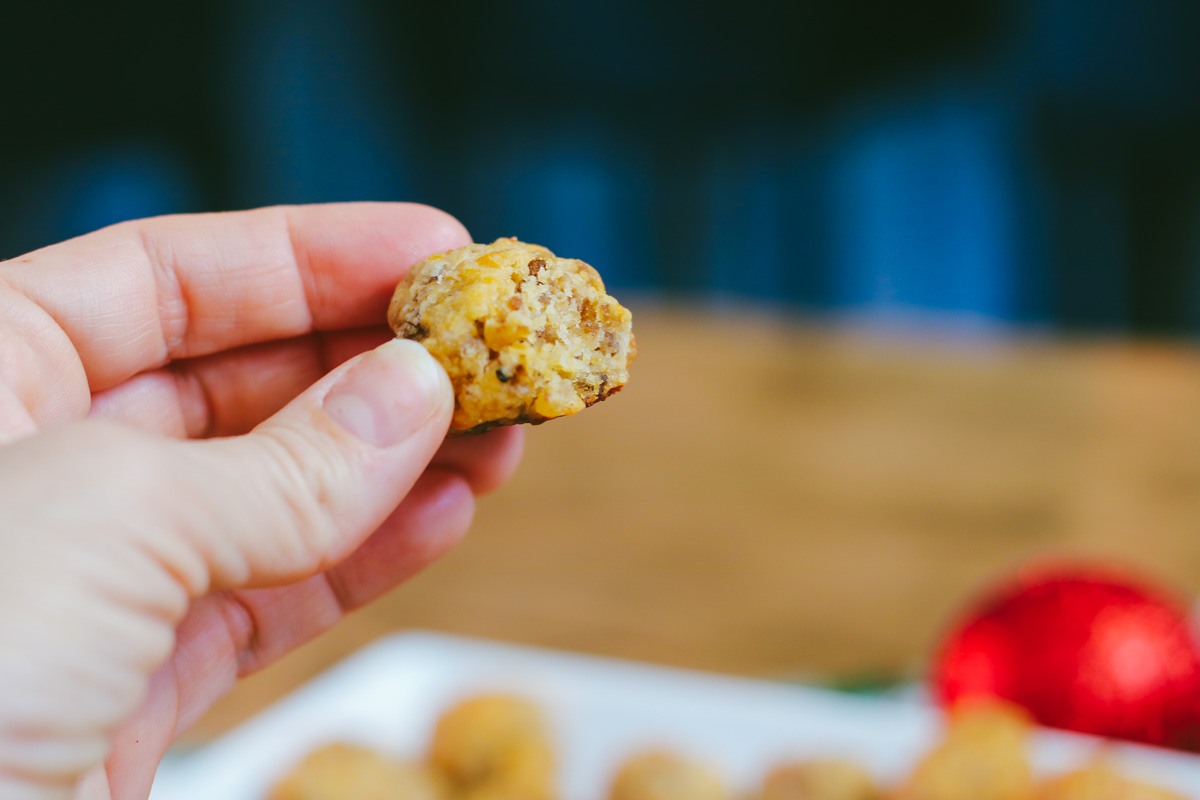 Funny story about our family's sausage ball recipe.
A few years ago while trying to prepare, I was unable to read my mom's handwriting on the recipe card. It never crossed my mind Google "sausage balls recipe" to obtain the list of ingredients. What's the fun in that? And when one thinks they are in the midsts of preparing a generational recipe, I needed that original recipe from mom.
Turns out sausage balls are pretty common AND it's possible our family recipe originated on the back of the Bisquick box circa the 1970's.
I've come to terms with it, but will continue the holiday tradition making sausage balls for my family! A simple holiday party appetizer or serve at Christmas brunch. Sausage balls are always a crowd pleaser.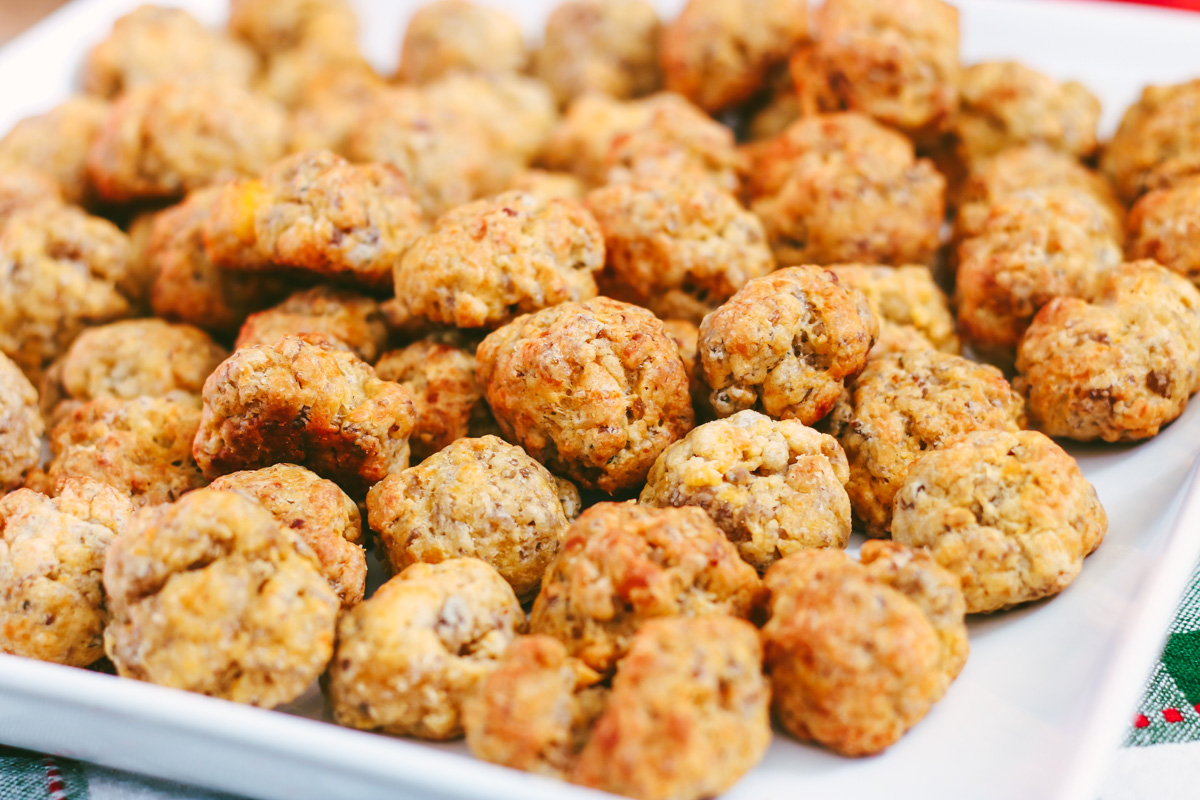 How to Make Sausage Balls with Bisquick
Combine the following:
Jimmy Dean Mild Pork Sausage
Grated Sharp cheddar
Bisquick
Combine all ingredients in a large glass bowl, mixing well with your fingers. Form into balls and bake until golden brown. Taking these out of the oven and eating warm is so much goodness!
The girls love helping me make sausage balls every holiday. Now if only I can get them on board to eat gumbo and liver pate. Maybe one day – right?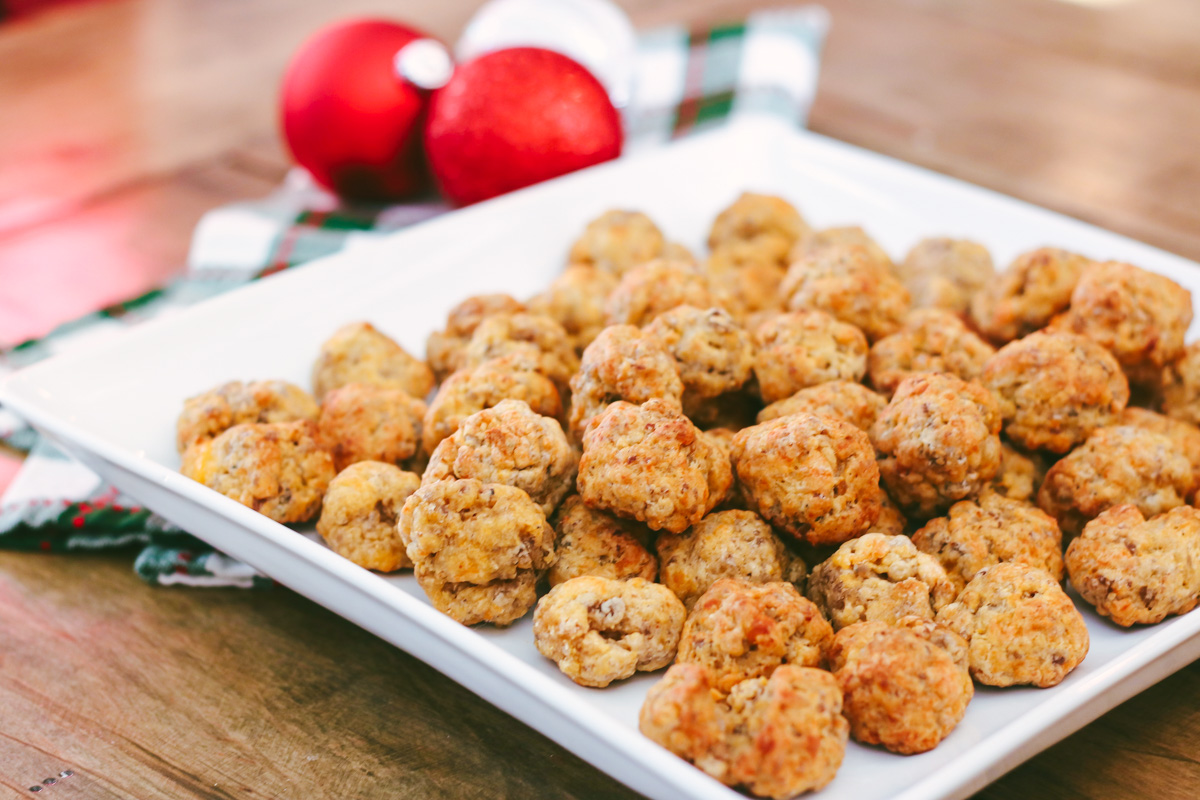 Sausage Balls
Ingredients
1 (lb) Jimmy Dean Mild Pork Sausage
1.5 cups sharp cheddar block cheese (grated)
3½ cups Original Bisquik
Instructions
Preheat oven 375
Grate cheddar cheese (pre-shredded cheese has additives to prevent it from caking and sticking together. Potato starch, corn starch and powdered cellulose are the most common.)
Combine all ingredients in a large glass bowl, mixing well with your fingers.
Mixture will become very crumbly. Form into 1 inch balls, squeezing the mixture so it holds together, then rolling it between the palms of your hands to form balls.
Place the balls on the baking sheet.
Bake for 18 - 20 minutes or until golden brown.
To prevent sticking, move the balls with a spatula halfway through cooking.
Notes
It's important to use the original Bisquick mix. NOT pancake and waffle mixture.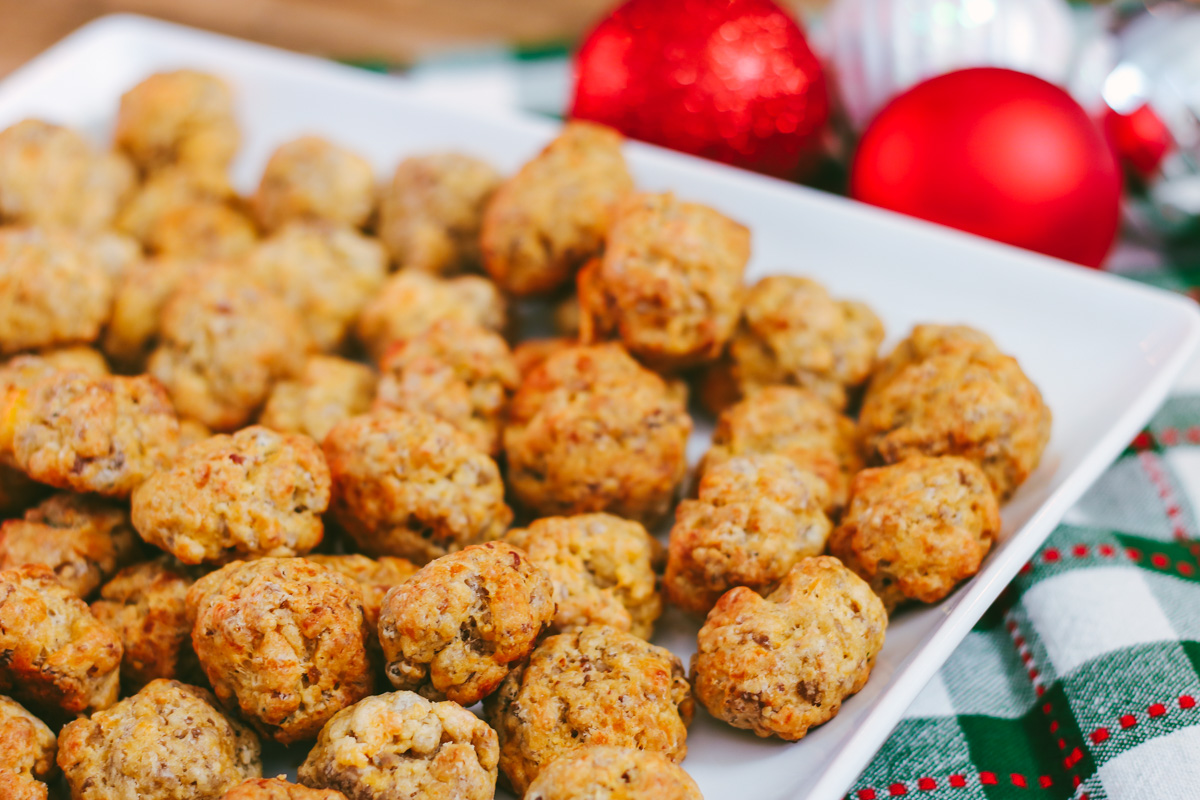 Tips for Making Sausage Balls:
Be sure to use the original Bisquick. Once I purchased Bisquick pancake and waffle mix which does NOT produce the same outcome. Have no experience using the Gluten-free version but may try that this year.
Purchase block sharp cheddar cheese and use a cheese grater (my favorite type here and here) rather than pre-shredded cheese. Packaged shredded cheese has additives to prevent from caking and sticking together. Potato starch, corn starch and powdered cellulose are the most common. Not convinced? Read this article.


Do you have any family holiday appetizer traditions?
If this post was helpful would love for you to share on Pinterest! You can also follow on Facebook, Twitter, Pinterest and Instagram. Sign up for our monthly newsletter and never miss a post here!
This post does contain affiliate links. By clicking and purchasing any of the recommended products, I will receive a small commission that goes towards running So Chic Life.