Paleo roux (thanks to Google) using almond and coconut flour.
I wasn't 100% confident and it can be risky substituting ingredients however I decided to wing it and hope for the best. The Paleo Gumbo recipe from Paleo Comfort Foods instructions called for making the roux first then adding in the onions and cook together. By the time I found the recipe I had already cooked the onions so roux went in like my normal recipe – at the end.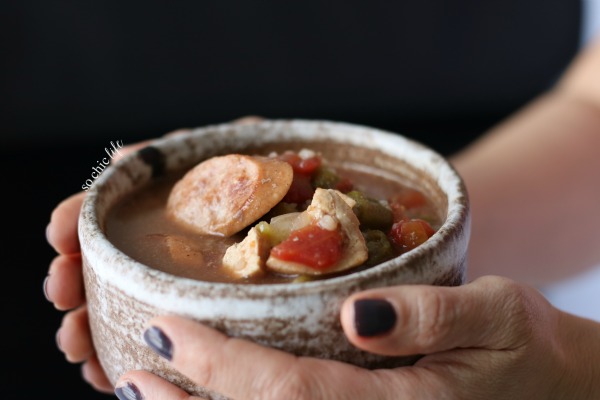 The revised roux did not thicken up the gumbo like I had hoped but it did not alter the taste which was my main concern.
Paleo Gumbo and Cauliflower Rice
Ingredients
4 Organic Chicken Breasts (shredded and cooked)
Homemade Chicken Broth
¼ cup bacon grease
3 Bay Leaves
3 cloves garlic- minced
1 bag frozen cut okra
1 large yellow onion diced
8 oz Kielbasa Polish Sausage or Organic Nitrate Free Chicken/Turkey Sausage (sliced in diagonal pieces)
28 oz diced tomatoes
3 tbsp Almond Flour
3 tbsp Coconut Flour
4 tbsp Gumbo File Powder, 1 lb. – Bulk
Old Bay Seasoning (to taste)
Cauliflower Rice
Instructions
Prepare chicken breast by roasting in broth or shred a rotisserie chicken.
Brown sliced sausage in cast iron skillet, remove from pan and set to the side.
Create roux by heating bacon grease in cast iron skillet and whisk in coconut/almond flour. Stir continuously until roux has a dark brown color like dark peanut butter).
Add diced onions and minced garlic until onions are translucent and soft.
Transfer roux and onion mixture to a dutch oven, adding chicken, broth, okra, sausage, diced tomatoes, old bay and bay leaves.
Bring to a boil and simmer. Remove from heat and add file powder. Serve with cauliflower rice or solo.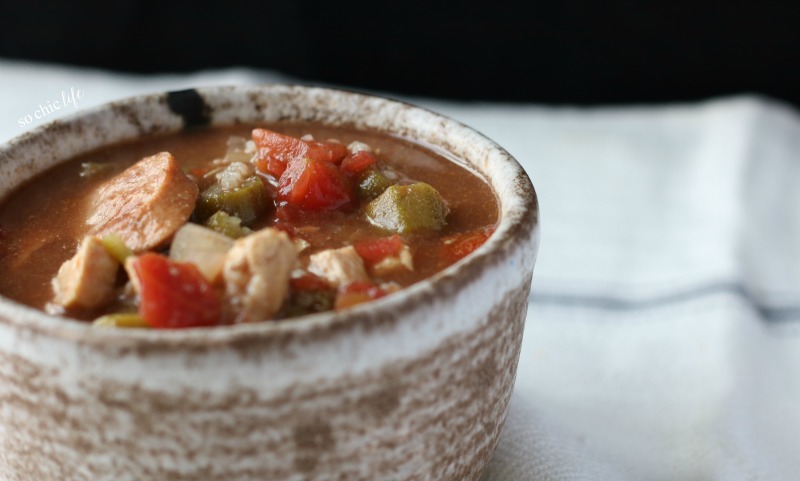 Notes:
For this recipe I used Open Gate Apple Sausage with Red Peppers. Consensus from the hubs was he prefers the Kielbasa Polish Sausage, the girls and I both agreed.
If you're in a hurry rotisserie chicken is acceptable, but honestly it is so worth it to make the chicken stock and cook the chicken yourself.
I cheated on the broth today to save time by roasting 3 organic chicken breasts (boneless) in 8 cups of filtered water and 24 oz of Pacific Free Range Organic Chicken broth mixed with a few baby carrots, celery stick, 2 bay leaves, kosher salt and 3 gloves of garlic at 450 for about an hour. It was so flavorful and moist. Might be using this in the future.
The 1/4 cup bacon grease was taken from Paleo Comfort Foods recipe but I was out and didn't have time to fry bacon. I used Grapeseed oil which was fine but only a few tablespoons. Next time I'll try a full 1/4 cup and cooked the veggies with the roux to see if it makes a difference.