Now that the home building process is over (YAY!!), it's time for the fun stuff – decorating! Prior to the dry wall being installed, our space planning the family room. Based on the layout and dimensions of this particular room, we weren't sure where to place the TV – over the fireplace or on the adjacent wall.
Husband was adamant about the TV being over the fireplace, the builder was against it, I was on the fence. My ultimate vision for our family room included a stone fireplace with a reclaimed barn wood mantle – like this.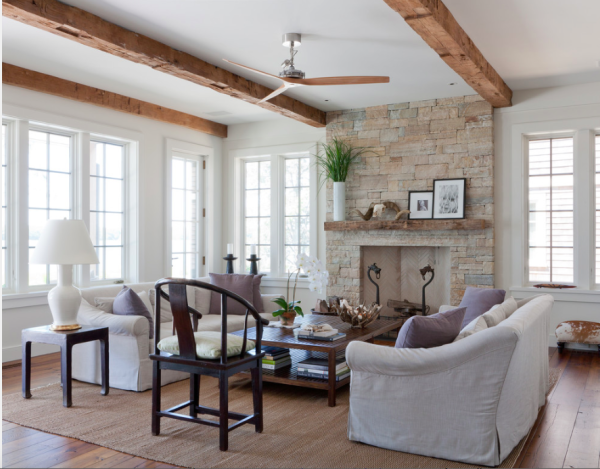 Other factors such as furniture placement in the room along with the type was questionable – sectional versus a couch with a love seat, two accent chairs versus one chair with an ottoman? At this point my brain was on overload making other design decisions and while placement of a TV seems simple – it all came down to internal wiring and mounting.
I was torn covering a beautiful stone fireplace with a large appliance, but at the same time the only option was the wall directly across from three windows. Would the glare from the sun cause a problem and annoy us at some point?
Another concern was having space for my barn wood mantle. After finding several inspiration photos on Houzz, I came to terms that if this design vision didn't come to fruition I'd be ok. Are you getting a headache just reading this?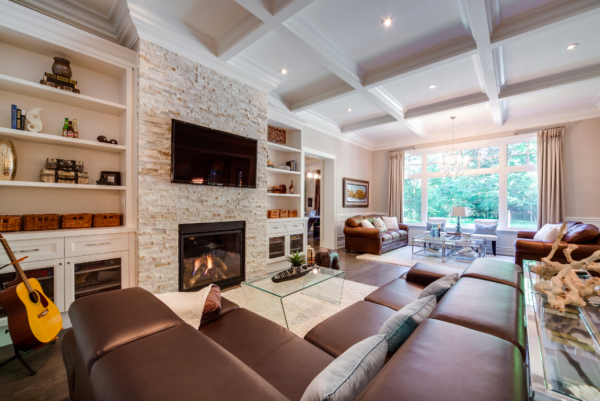 For a minimal cost it's worth the investment of a spatial plan to have an idea of what type of furniture will work in your room. There are several free online virtual room programs and tools, but in our situation a spatial planner came to the house, took all the measurements and provided an awesome CAD drawing featuring two scenarios.
Option 1: Two 84″ Sofas and One Chair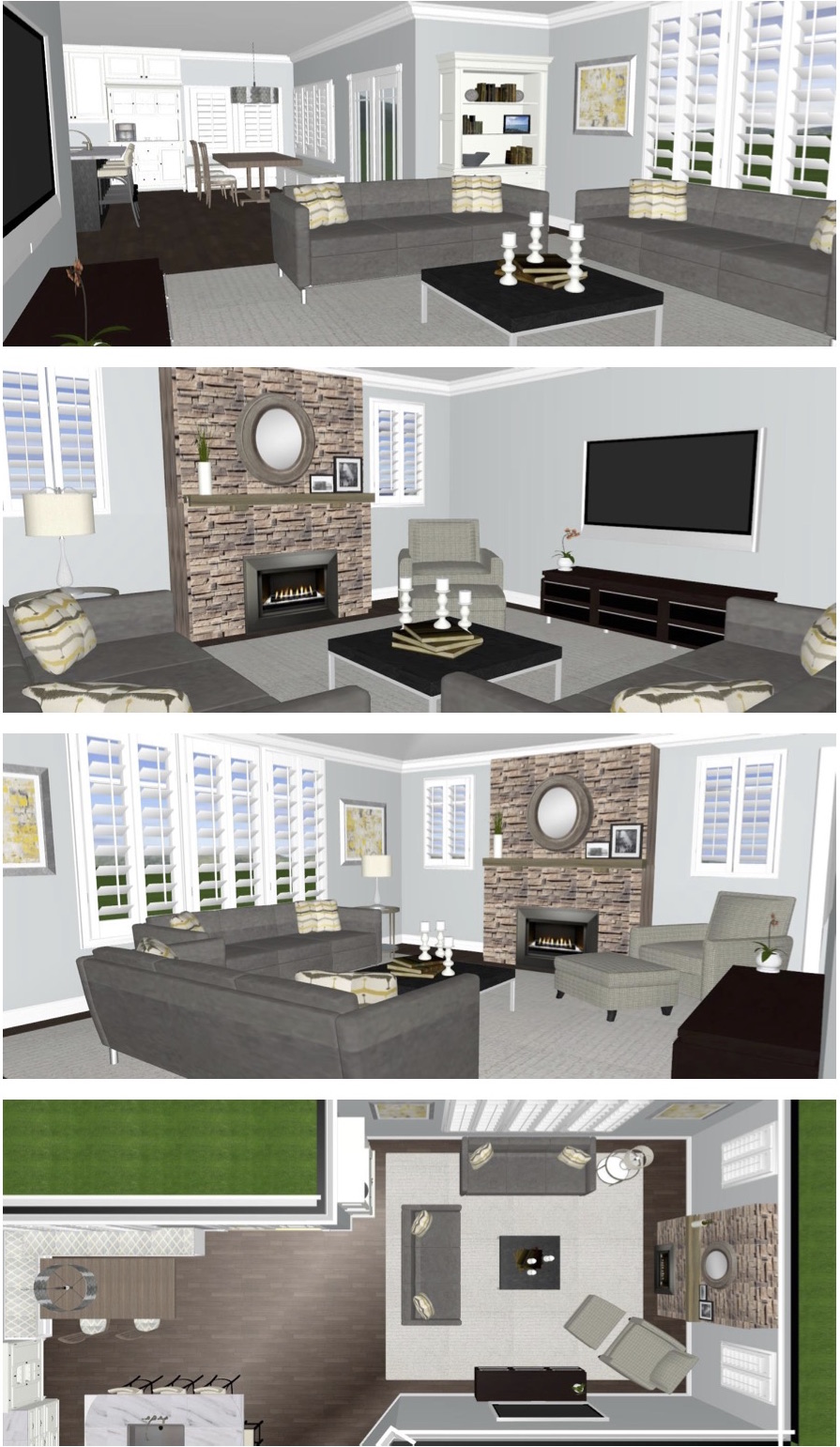 Option 2: Sectional Sofa and Chair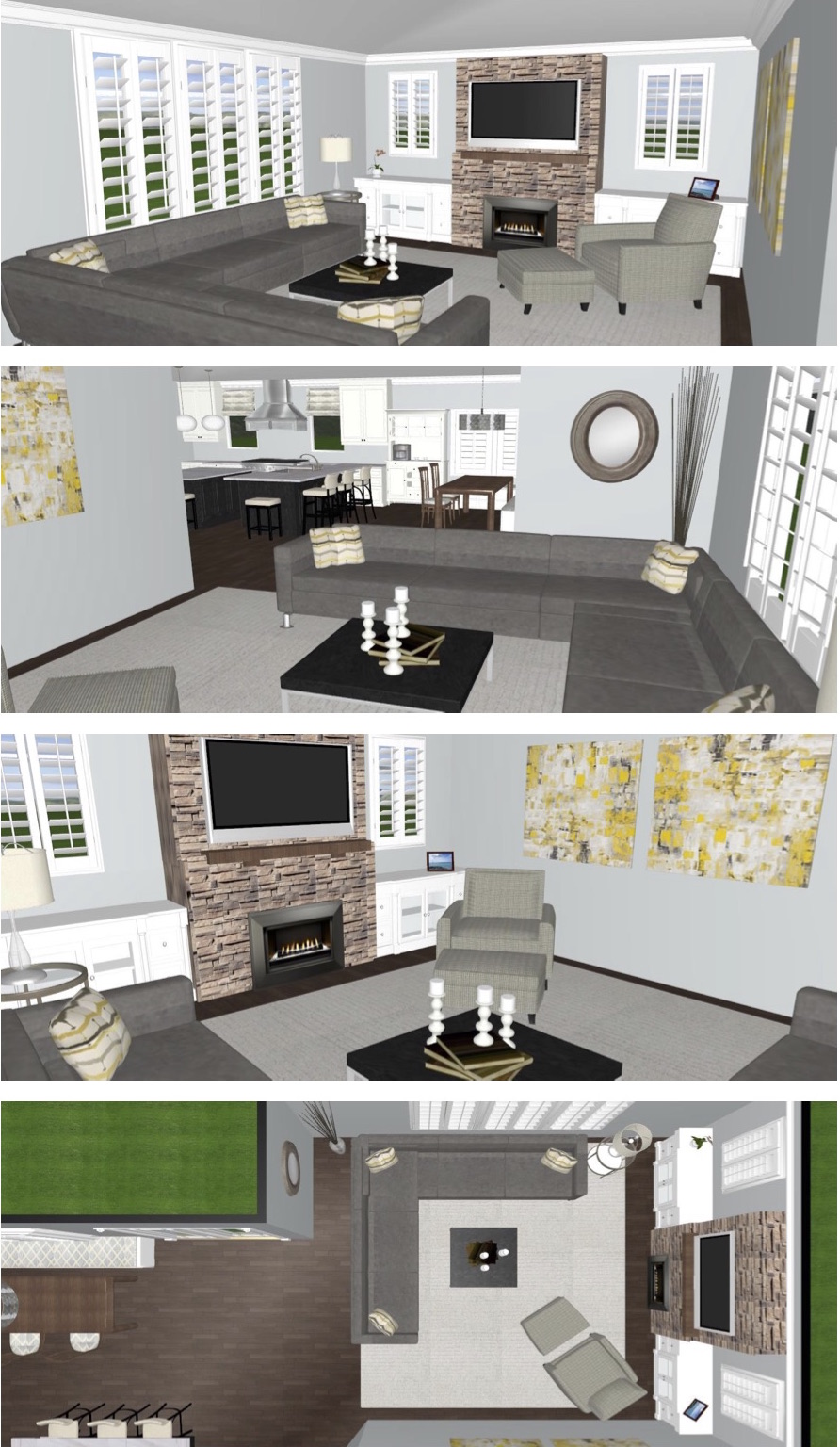 Space planning our family room was extremely helpful when it came to deciding how to move forward with the design. Ultimately the sectional sofa with one chair won us over!
We still have so much to do for the house but I'm excited to share more photos soon. Stay tuned for a sneak peek of our family room design. It's definitely coming along.
What space planning option is your favorite? Do you prefer the two sofas or the sectional?
For more design inspiration follow me on Houzz.com!