Chocolate dipped pretzels are such a fun Valentine's Day treat. Not only are these incredibly easy to make and I love there is no baking involved. Even if you're an amateur in the kitchen, anyone can make these.
There are so many ways to decorate and the end result is a decadent sweet and salty snack that everyone loves – especially the kiddos. Chocolate dipped pretzels also make great hostess gifts and party favors.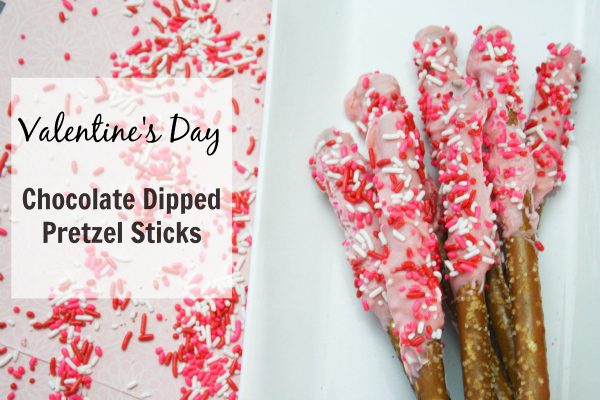 There are several way to make chocolate dipped pretzels. You can use pretzel rods, pretzel knots or pretzel squares. I like the presentation of pretzel rods (these would look adorable served in a glass container for a party). Pretzel knots and pretzel squares are little easier for packaging in treat bags if you're giving as a gift.
If you're being adventurous why not enlist the kiddos to help out too? It's a fun activity and way for them to spark their creativity with very little mess. That is if you can control the sprinkle situation.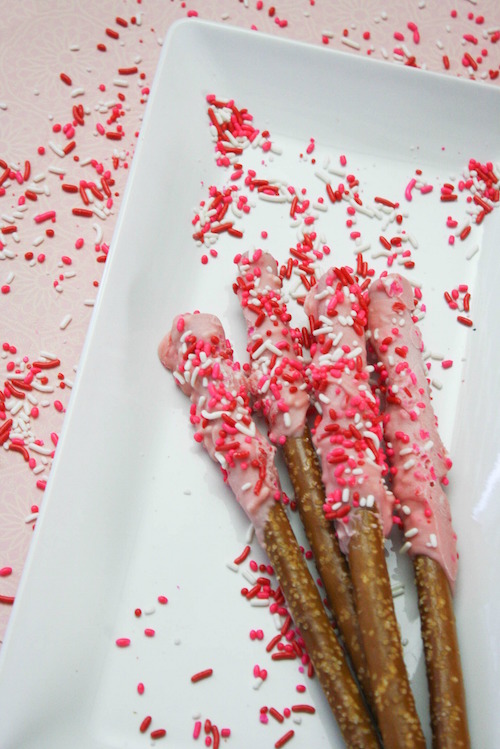 The pretzel rods are a little tricky when dipping and covering with the chocolate. Over time I've found that using a spoon to help drizzle the chocolate on to the pretzel while holding over the bowl seems to really help.
Snyder's pretzels are my preferred brand as they hold up well once the chocolate is applied.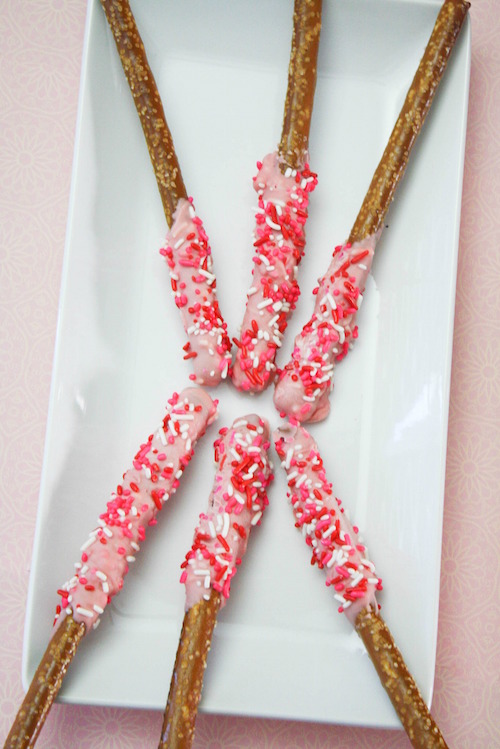 How to Make Valentine's Day Chocolate Dipped Pretzels
Items Needed:
Directions:
Place candy melts in a glass dish and melt in the microwave for 1 minute. Stir gently. If not melted smooth, repeat in 30 second intervals.
Dip the top of pretzel rod into melted candy wafers. Tap off any excess and set on a sheet of wax paper to harden. You can also use a spoon to drizzle the chocolate over the rods.
Add sprinkles before chocolate hardens.


Pinterest Picks: Valentines Day Chocolate Dipped Pretzels
Love from the Oven – Great tips for working with chocolate and a quick video tutorial on make the dipped pretzels.
Valentine Pretzel Buttons using Hershey's Hugs and square pretzels – super cute!
Valentine Pretzel Crunch  using white chocolate and M&M's – an adorable salty and sweet treat.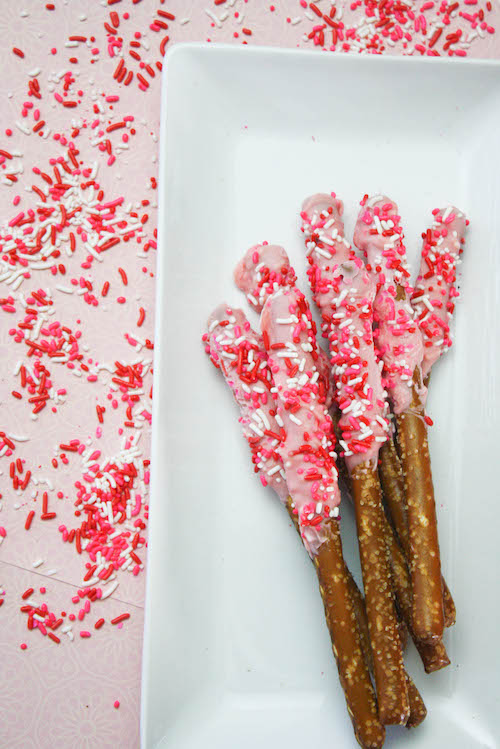 More Valentine's Day Goodies!
This post may contain affiliate links. If you click and purchase any of the recommended products I will receive a small commission that goes towards running So Chic Life.
Shop the Post