If someone would have told me the foyer design would be one of the most challenging spaces in our home, I would have thought they were crazy. Since moving in almost two years ago, it has taken this long with several trials and lots of errors just to finish one small (but very impactful) area.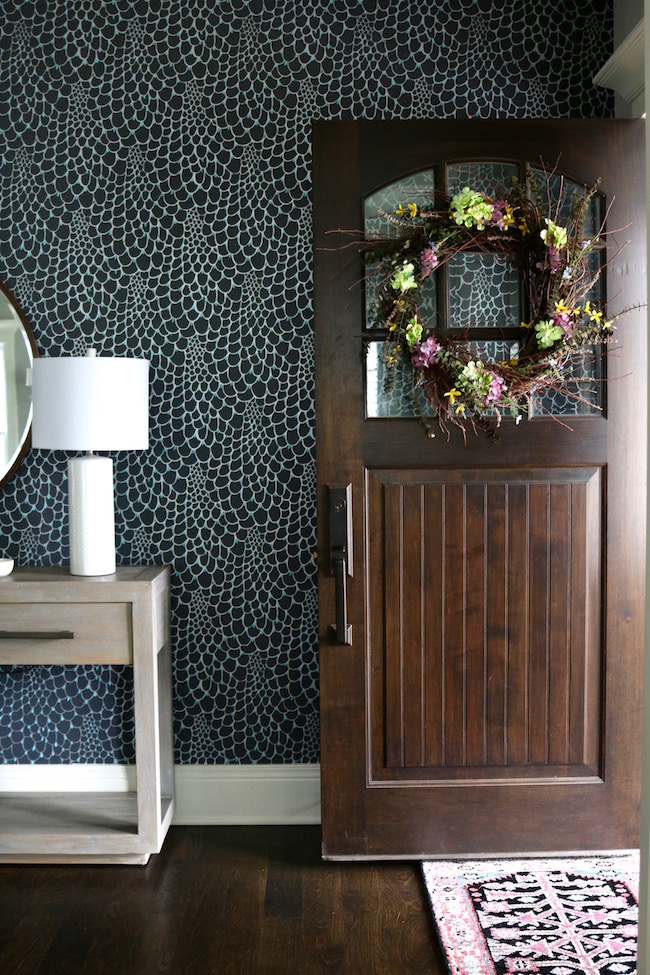 Can someone pour me a stiff drink?? While I'm thrilled it's finally complete (all thanks to lots of advice from friends and help from several pros) and excited to show our foyer design reveal, it was certainly a long road to get to here!
Let's start from beginning because the journey is highly entertaining…This is where it all began. As you can see the entry wall is very long and with light paint (gold antique glass console table. Um, yeah that didn't make the cut and was sent back within 48 hours.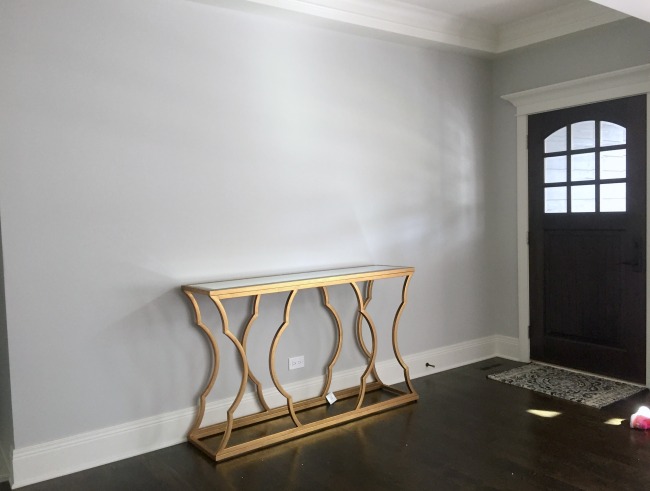 You may be wondering why we had so many challenges. At first glance it's just a wall that requires a table, mirror and a few accessories. Simple, right?
When we designed the home's layout, our goal was to have a very open floor plan. Eliminating the formal living room, we wanted the entry to open into the dining room. This seemed like a smart plan but it never crossed my mind that our entrance would only be the width of the front door.
This limited the depth available for an entry table (FYI-it is very difficult to find a long, narrow console table) and space for an entry rug or runner.
I had envisioned our long entry showcasing a beautiful rug, but that wasn't an option unless the table overlapped.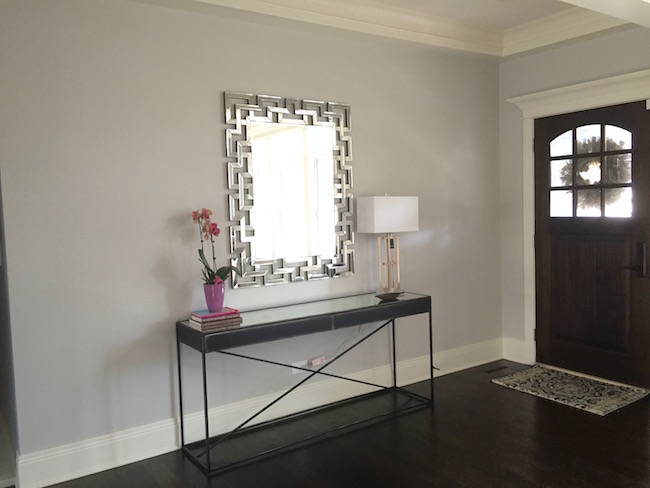 At this point I'm obsessing because the entry is the first thing people see when they enter the home #firstworldproblems. In our case, opting for a front door with three rows of window panes also allows clear visibility when standing on the porch. Yes, I have a problem worrying about these things.
The next go was purchasing a Z Gallerie Santorini Mirror. For some reason this particular combo still wasn't working. The table was getting lost on the dark floors and the mirror was just ok.
If you remember my Powder Room reveal with Relativity Textiles, Erin had suggested using the same wallpaper on the entry wall but in Peacock Slate. After seeing how beautiful the bathroom turned out, I was sold!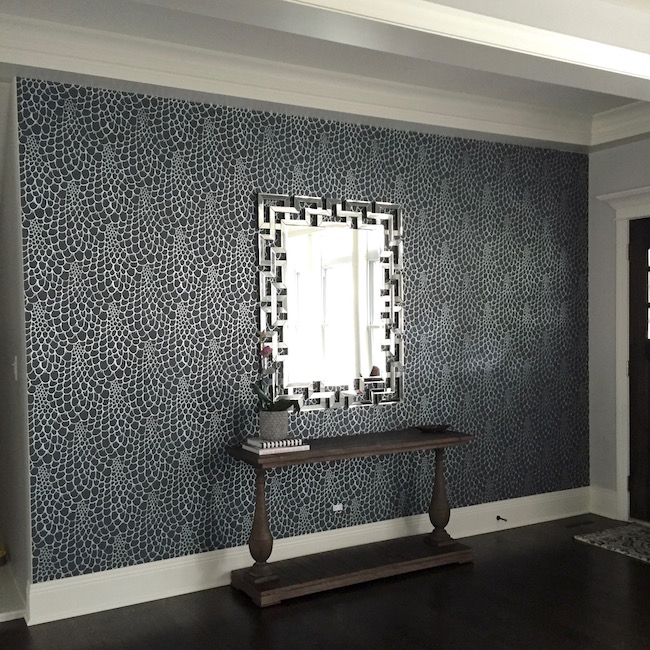 The wallpaper immediately transformed the foyer, however the Z Gallerie mirror was entirely too busy and a wood table from Joss & Main (purchased after seeing in another friend's home) was too small and again entirely too dark.
Time to bring in a pro. Thankfully a mom from school introduced me to Jorie Burns, an incredibly talented interior designer who is a rock star at finishing rooms.
I'm not sure how she did it but it's everything I ever wanted in a statement foyer!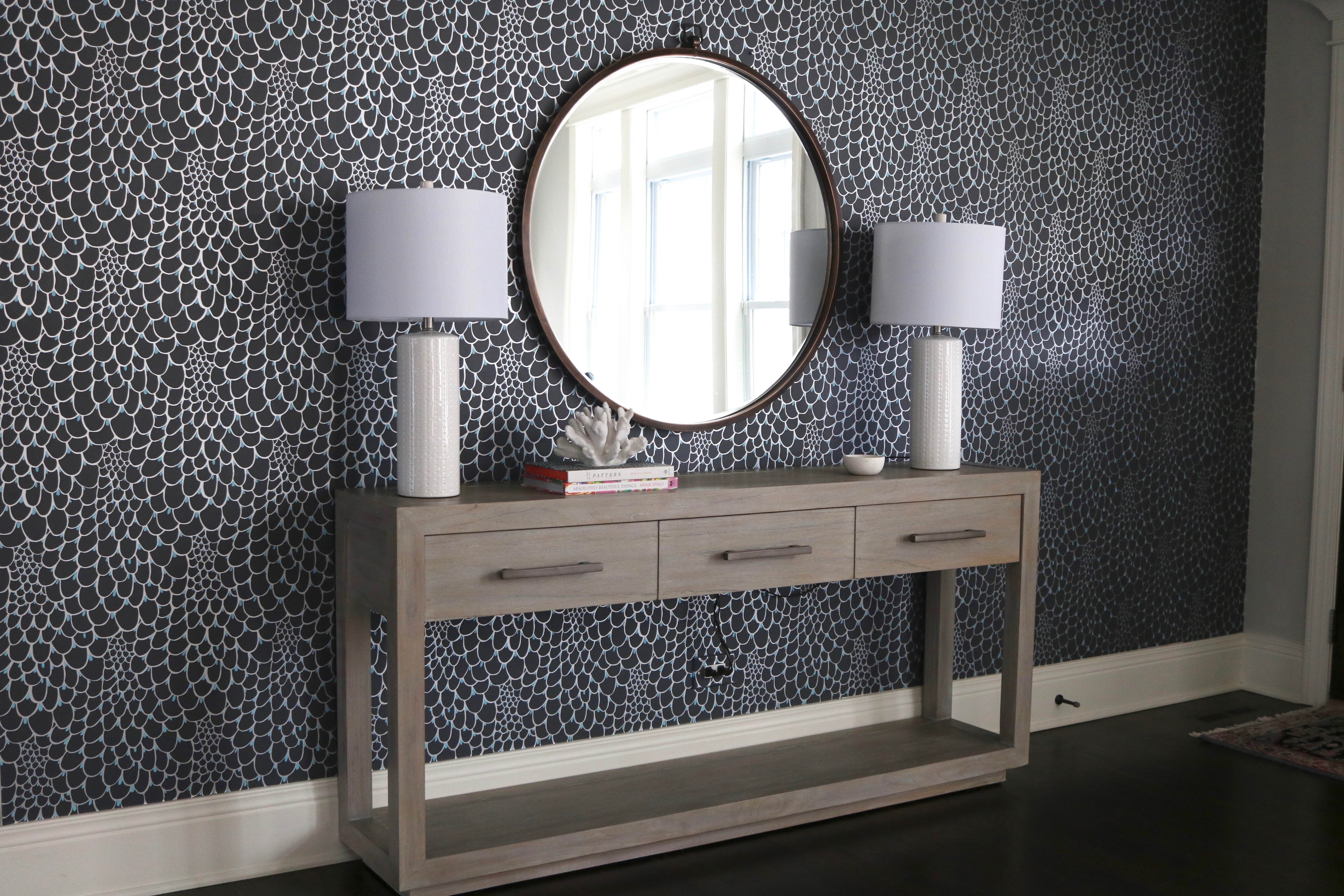 The sofa table from Walter E Smithe was the foundation and the first piece Jorie found. Not only was it the perfect size, style and color – it was on sale! I would have never considered a table like this but we love it.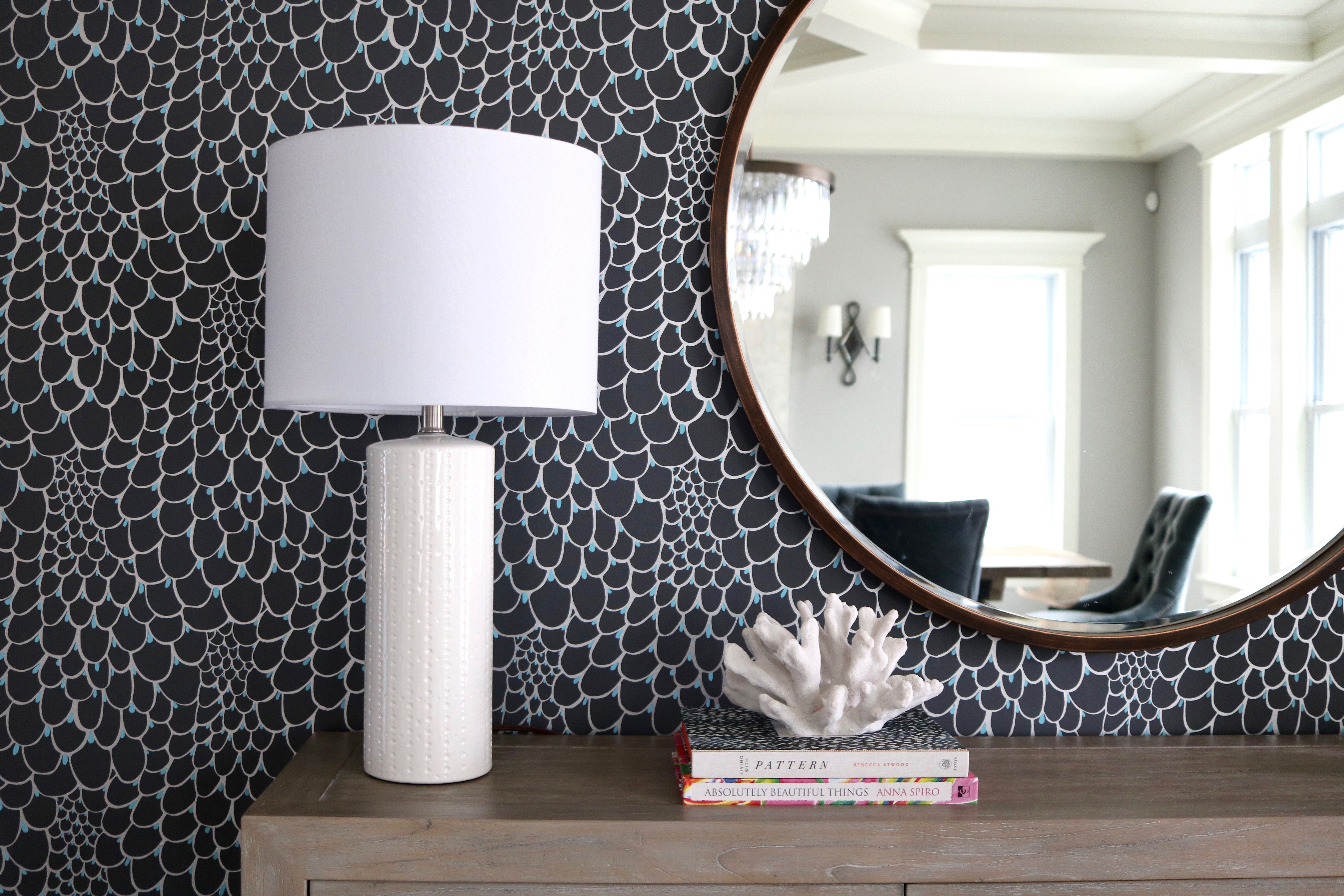 The round antiqued bronze mirror coordinates with the dining room finishes and the entry table hardware. It's interesting on it's own but doesn't take away from the wallpaper, unlike the original mirror.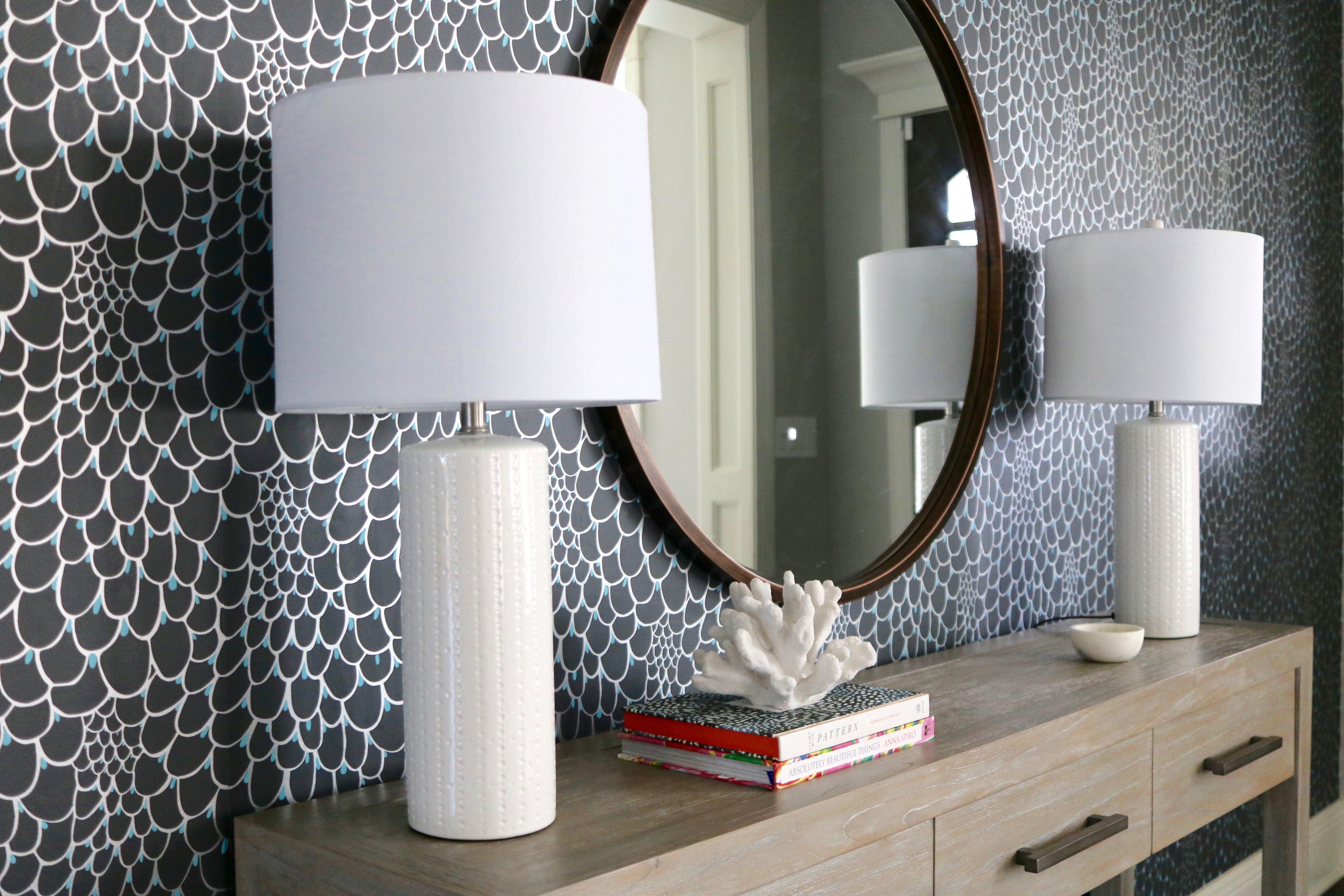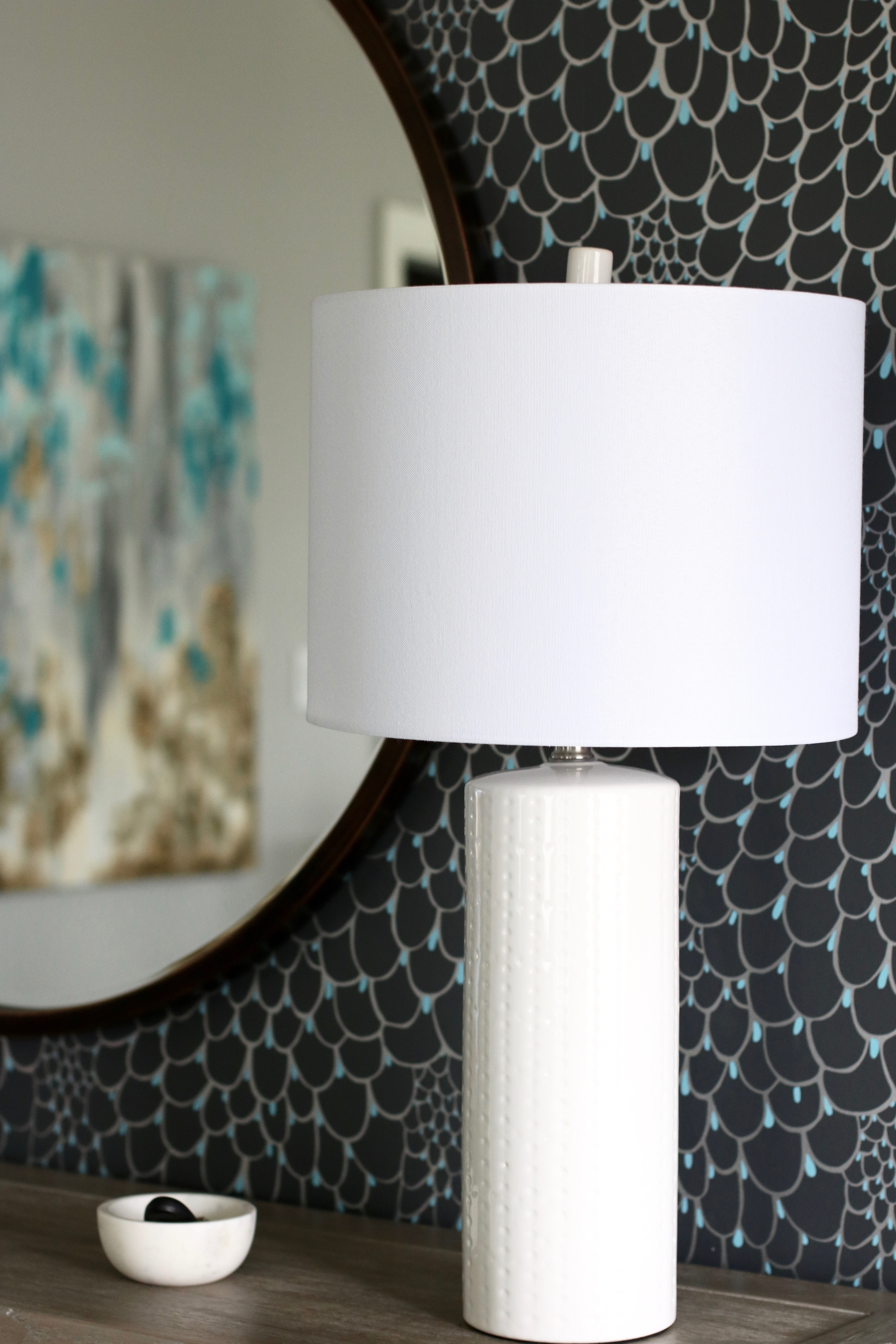 Can we have a moment for these table lamps? I searched forever and for the life of me couldn't find anything remotely appealing. You won't believe how much these cost. Let's just say the lamps are sold in a pair and under $120 total.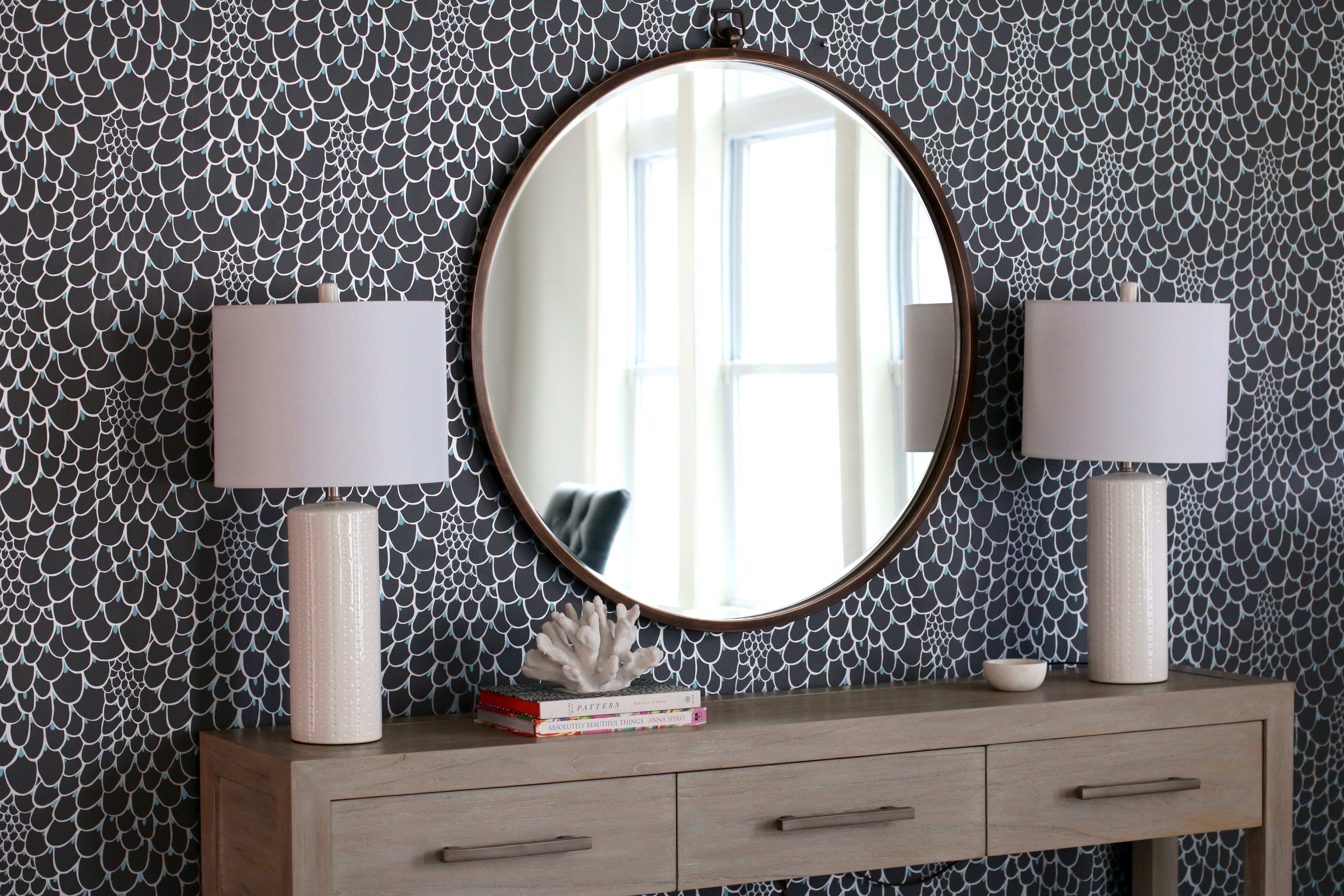 My dream was to incorporate a Caitlin Wilson Kismet Rug in the dining room but it wasn't in the budget. Jorie opted for a smaller version as an entry rug and it's beautiful. It would have been nicer to go bigger but again – back to our narrow doorway and there happens to be a return vent on the floor.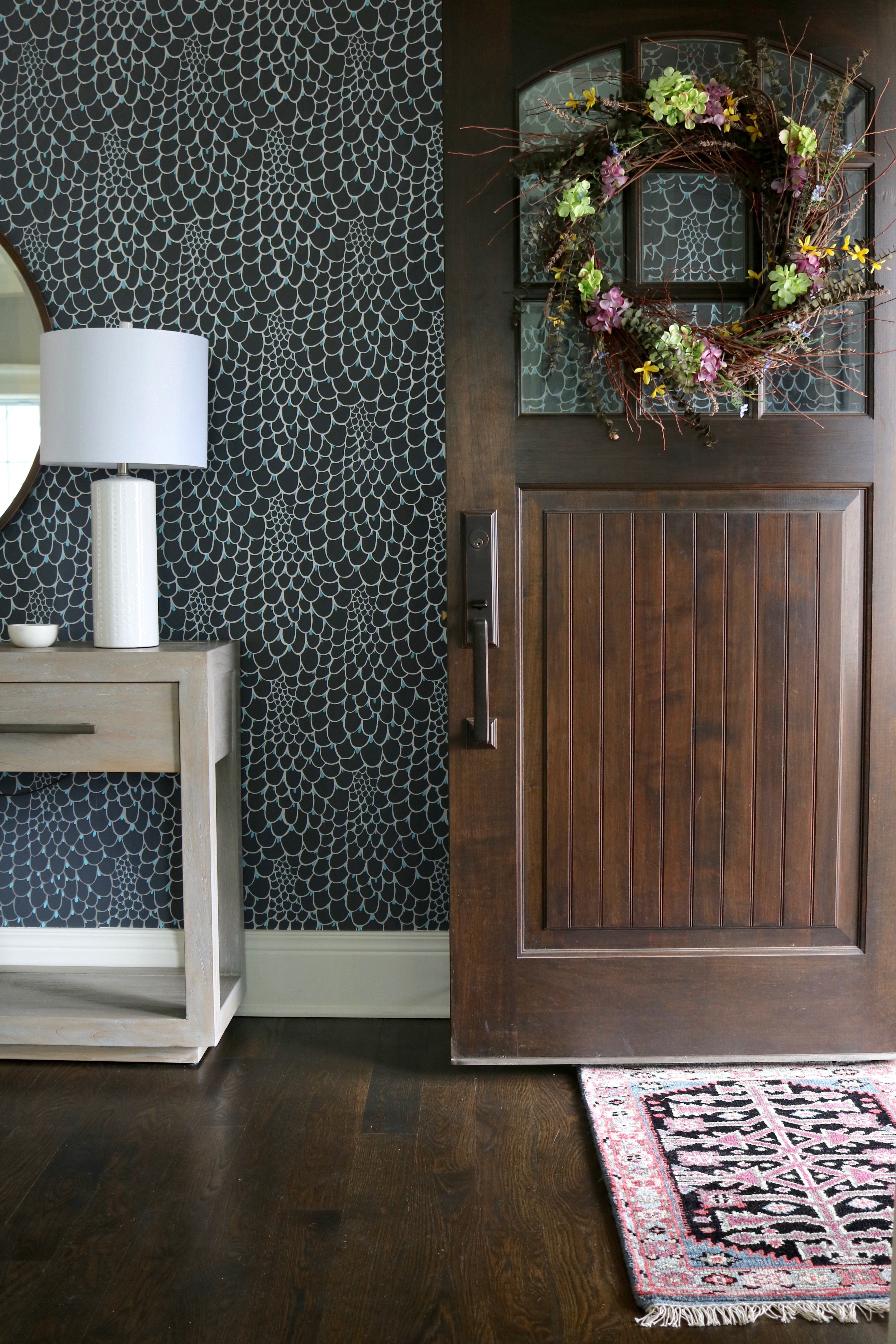 I'll take what I can get because this rug is everything.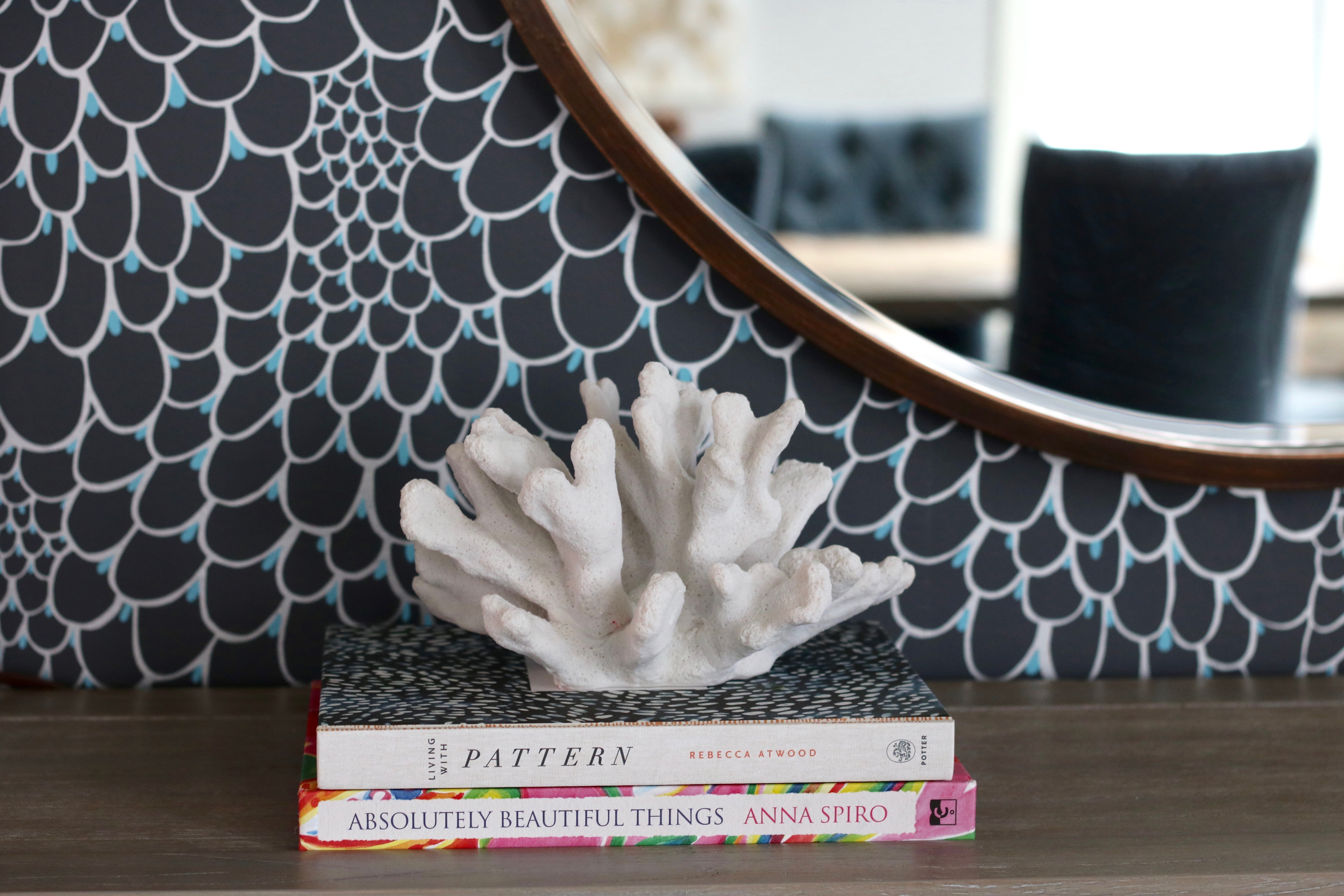 Working with Jorie was one of the best experiences we had with an interior designer. After meeting and evaluating our home we decided to focus on finishing the first floor. We discussed all the items needed to create a finished look for each room and charging a flat fee for the entire project, she found every single item – including every accessory, two console tables, artwork, rugs and books.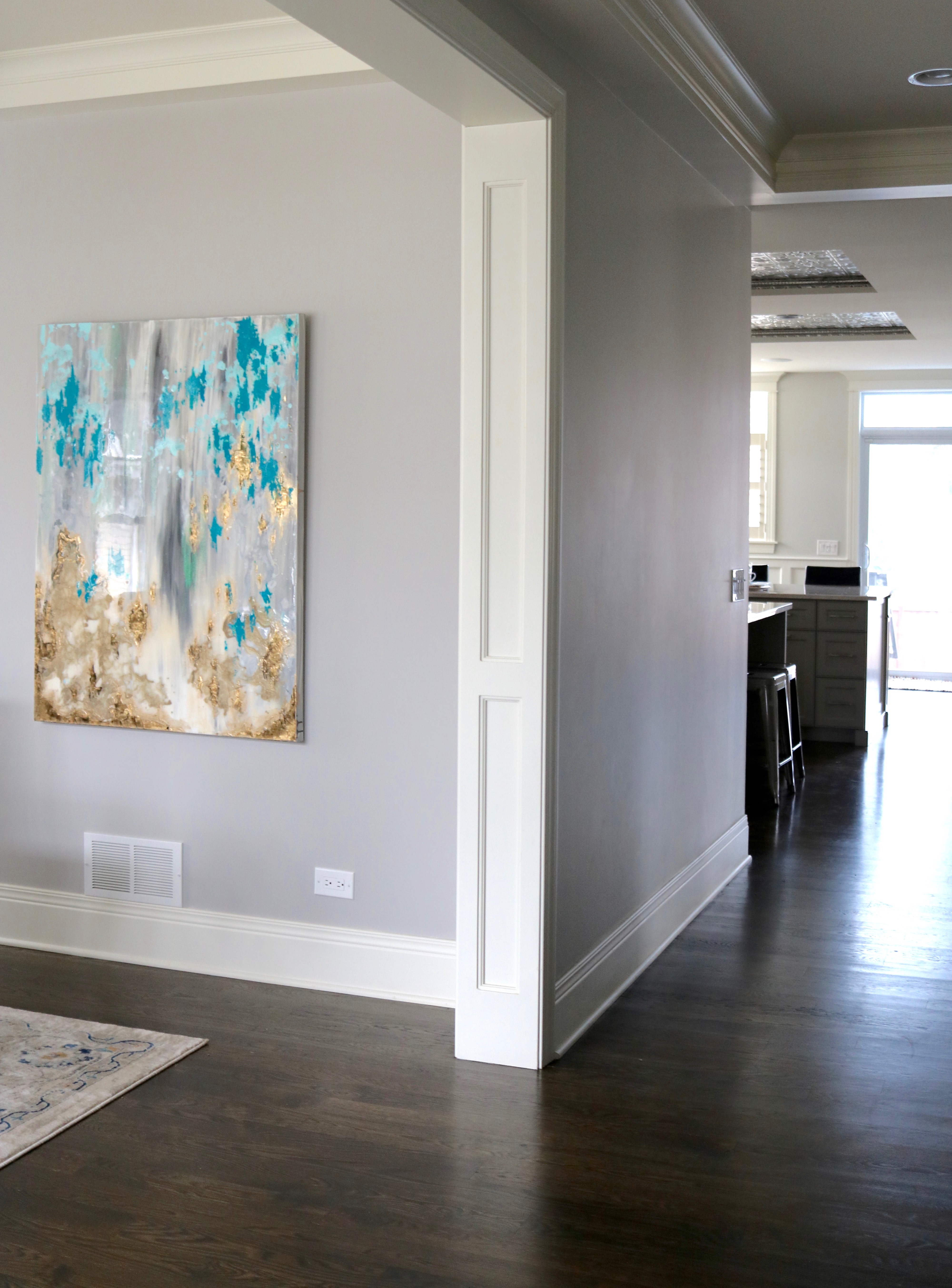 Jorie also helped me understand the concept of light and bright design. We tend to go dark on everything. We started in the right direction painting the walls light gray but when it comes to accenting pieces (rugs, artwork, etc) we have go lighter to offset the dark floors.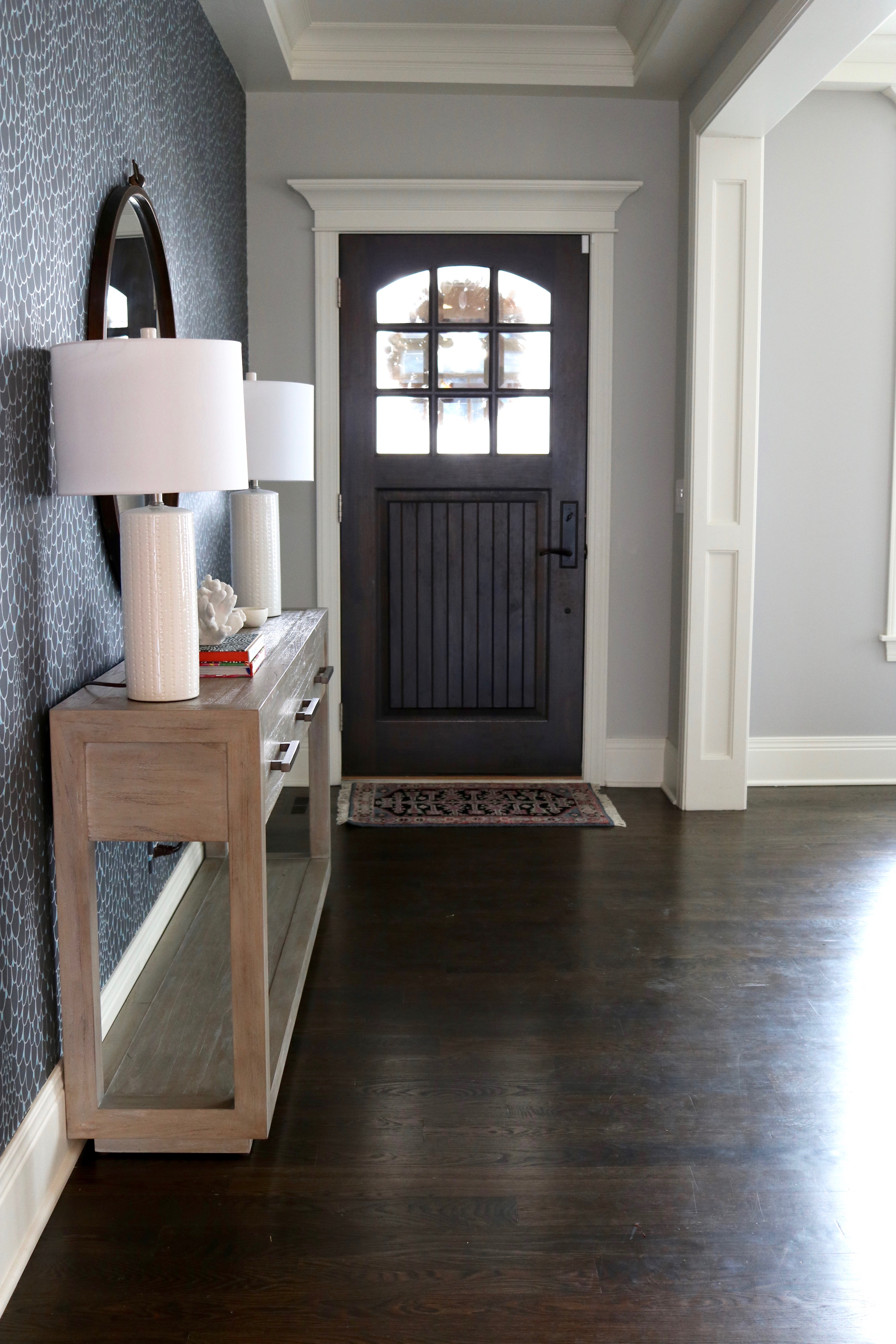 We seem to gravitate to darker accents against light walls but because of the floors, this can close in a space. I see interior design in a totally different way but it's difficult to break old habits.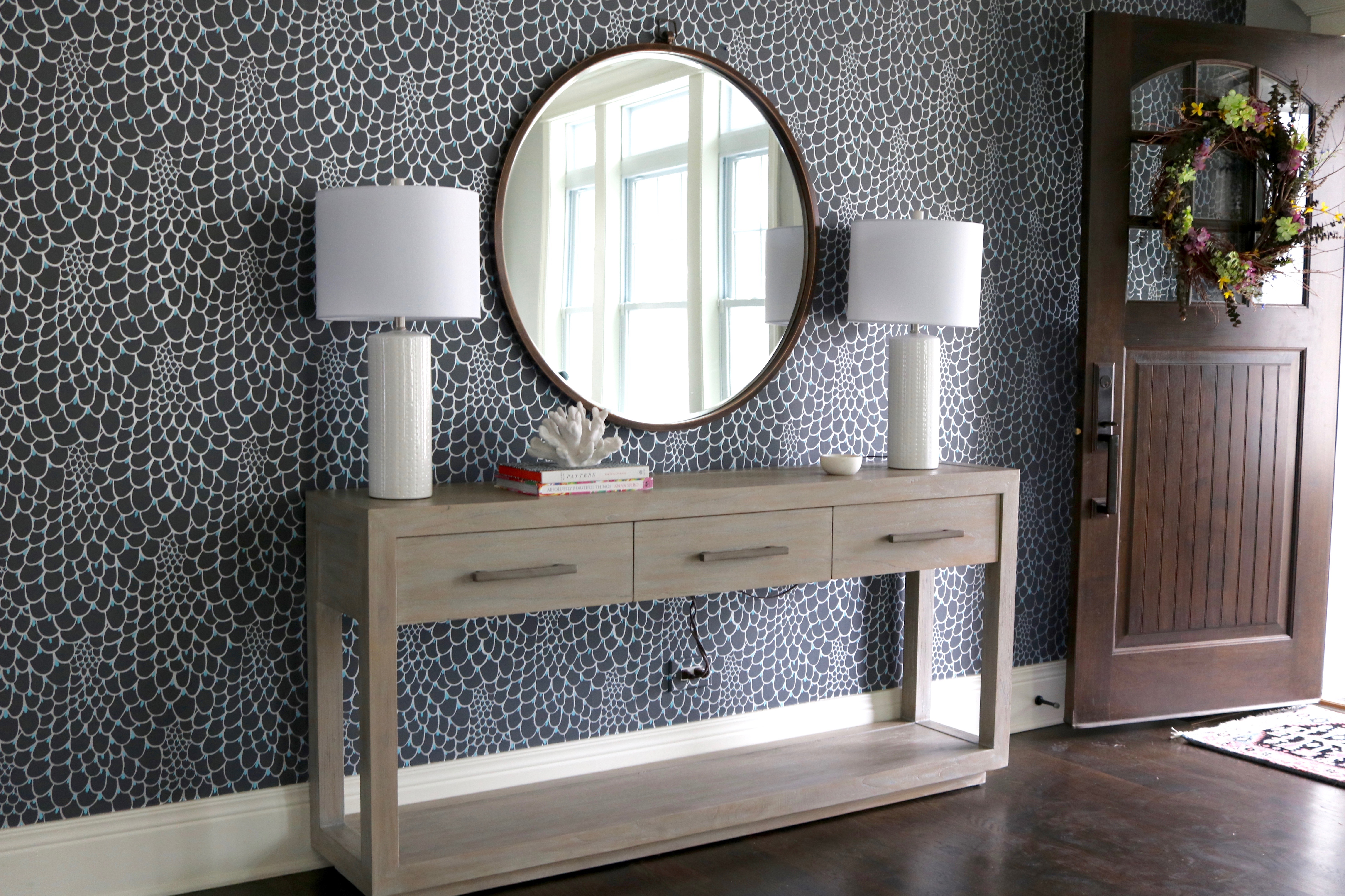 Now when I walk through the front door I'm so happy to be home! It's everything I could ever want and more.
Big thanks to Relativity Textiles for designing our dream home!
Foyer Resources:
Front Door
Entry Rug
Custom Artwork
If this post was helpful would love for you to share on Pinterest! You can also follow me on here!
This post contains affiliate links. If you click and purchase any of the recommended products I will receive a small commission that goes towards running So Chic Life.