Let's talk Kale….If you ever desired a way to actually enjoy (potentially crave) kale salad, this recipe is for you my friends.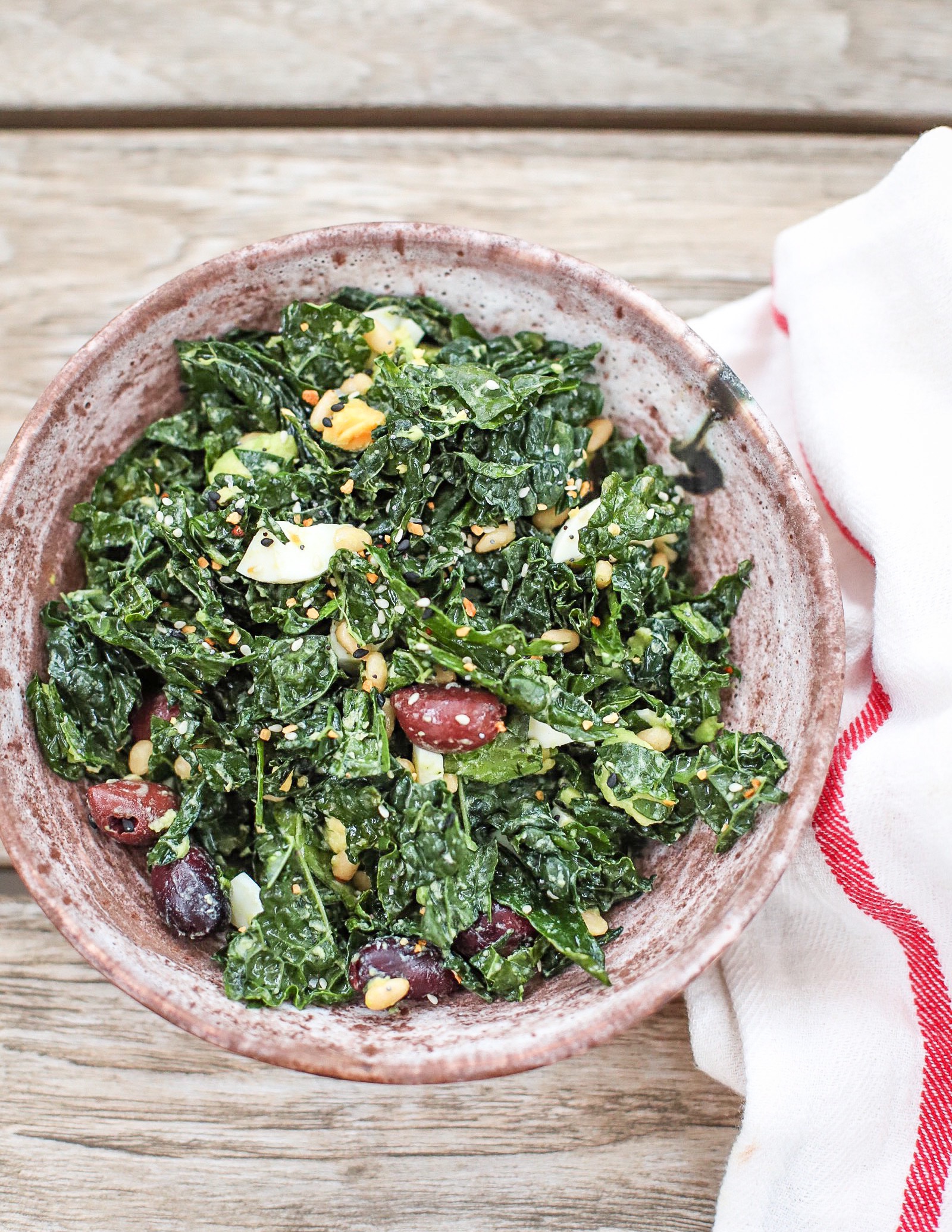 It wasn't until I discovered the Avocado Kale Salad recipe from the Paleo Cooking from Elana's Pantry that I actually realized how delicious kale could be. But you know I couldn't just follow the original recipe. I gotta add a few special ingredients and take it up a few notches which is why I'm calling it – Next Level Avocado Kale Salad.
If you're wondering where I've been lately…. It's been a minute (actually months) since I posted and for good reason. We recently moved from Chicago burbs to Franklin, TN. Far too many details to bore you in a recipe post so maybe this calls for a "Why We Left Illinois" dedicated post??
I'm over here unpacking and organizing our new home but also back in the kitchen and blogging. But let's focus on this avocado kale salad recipe and how to make YOU crave kale.
For years kale was simply the garnish on a plate while dining out, but that was before nutritionist or probably Dr Oz decided to clue us in that kale is a superfood. Then the Kardashsians were eating salads non-stop and everyone went crazy wanting more salads. Sorta…I mean it's kinda true.
While Doctors were raving how good it was for us, kale was not my favorite leafy green until I discovered Lacinato (aka dinosaur) kale and the technique of massaging. Yeah that's right – massaging kale is where it's at. Basically I'm giving you permission to play with yo food.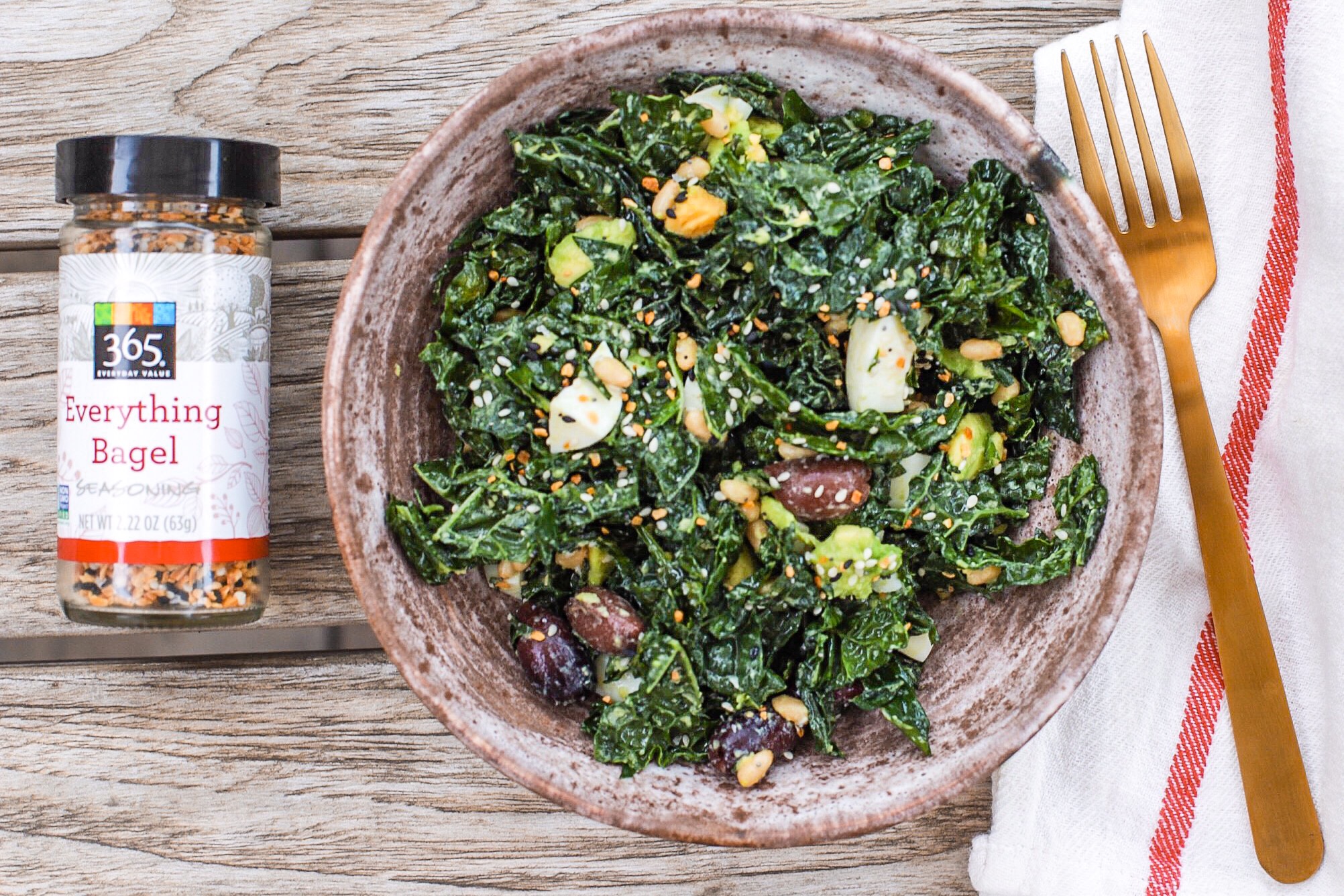 As you probably experienced if you ever ate curly kale, it's an incredibly strong, sturdy, bitter green that is high in fiber. Consuming just one cup has a long list of health benefits. Massaging the kale breaks down the cell wall, makes it more tender, less bitter, brighter color and easier to chew.
Once you start massaging kale you probably won't ever NOT massage it again.
How to Massage Kale
Remove the thick fibrous ribs of each kale leaf.
Chop kale into thin strips. I prefer it to be as fine as possible.
Place in a large mixing bowl, add organic cold- pressed olive oil and Apple Cider Vinegar or Lemon Juice – even avocado works.
Using your hands, massage the kale, oil and vinegar together until the kale is tender.
Let sit for about 5 minutes. This helps soften the kale even more but without getting soggy.
How to Make Next Level Avocado Kale Salad
Next Level Avocado Kale Salad
Next Level Avocado Kale Salad Cuisine: Salad Author: Alison
Ingredients
1 Bunch of Lacinato (dinosaur) Kale
1.5 tbsp organic cold pressed extra virgin olive oil
1 tbsp raw apple cider vinegar or lemon juice
1 medium haas avocado, diced into cubes
1 hard boiled egg, diced into cubes
2 tbsp pine nuts (toasted or not - whatever floats your boat)
10 kalamata olives
Everything Bagel Seasoning to taste
Iodized Sea Salt and Pepper to taste
Instructions
Remove the fibrous rib from each leaf.
Chop kale crosswise into strips. Similar to the chiffonade method.
In a large mixing bowl combined chopped kale, olive oil, ACV or lemon juice. Massage together using your hands until kale is tender.
Massage the avocado into the salad with your hands until mashed and mixed. Or just add the diced avocado and skip the mashing.
Sprinkle with salt and pepper and let stand for 5 minutes. This helps with softening the kale.
Before serving, mix in the diced egg, pine nuts and olives. Sprinkle bowl with Everything Bagel Seasoning.
I promise you the Everything Bagel seasoning is what really makes takes this salad to the NEXT LEVEL! I use 365 Brand from Whole Foods but many swear by Trader Joe's Everything but the Bagel. This salad is so amazing I may go make myself a big bowl now.
If you make this, please tell me! I have to know what you think and if you love it as much as I do. Hashtag your photo on IG using #sochicfood.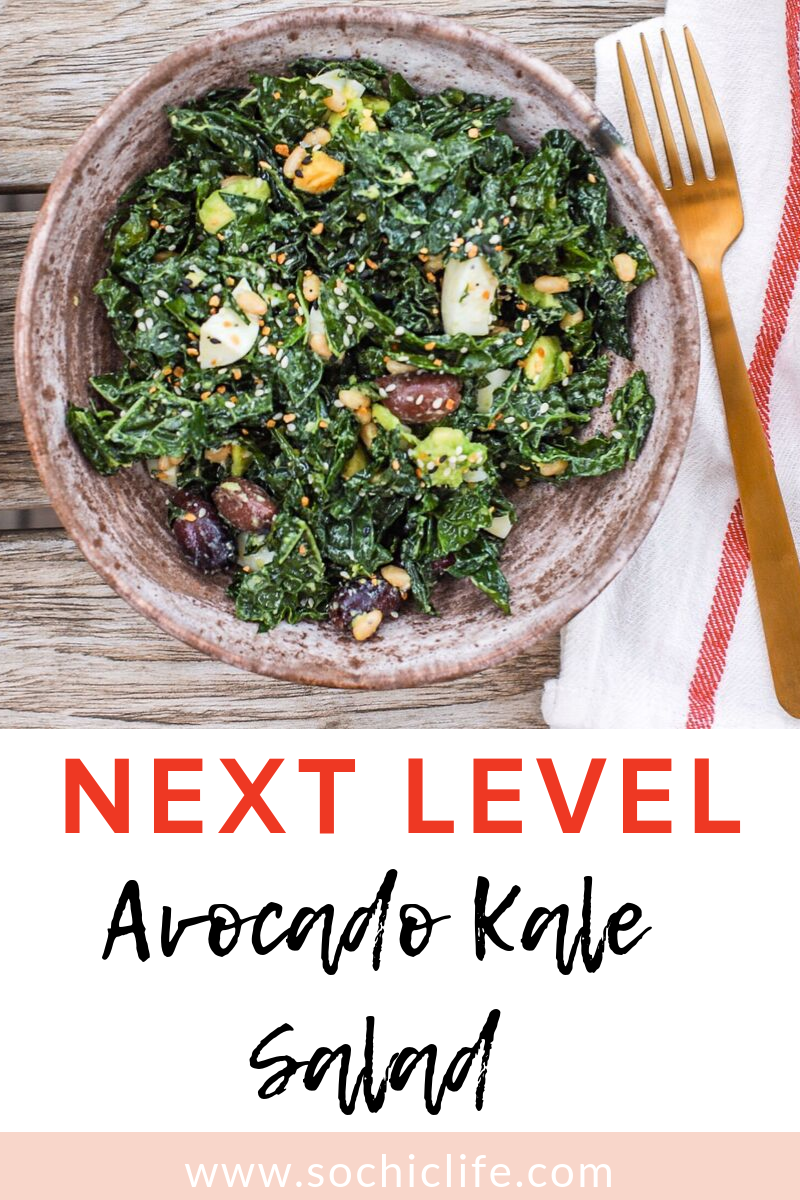 More Salad Recipes You Gotta Make:

This post may contain affiliate links. If you click and purchase any of the recommended products I will receive a small commission that goes towards running So Chic Life.