Quinoa & Butternut Squash Stacks is one of my favorite recipes from The Beauty Detox by Kimberly Synder. It's incredibly easy (your family and friends will be blown away) and super yummy.
I've never prepared a fancy "stacked" recipe but how hard can it be?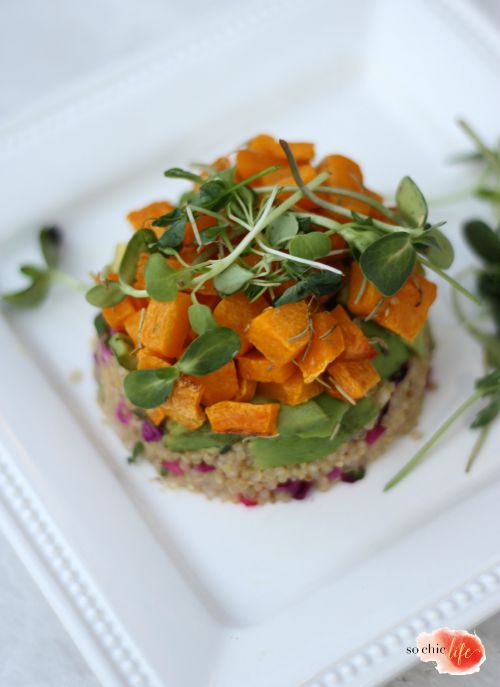 Turns out the secret to success are these cute little ramekins. All you have to do is layer and press each ingredient then flip upside down on a plate to accomplish a beautiful presentation like this.
The flavors of this recipe are paired perfectly. I would have never thought to use rosemary when combing butternut squash with avocado and quinoa. Give it a try, you'll be impressed with bad yourself.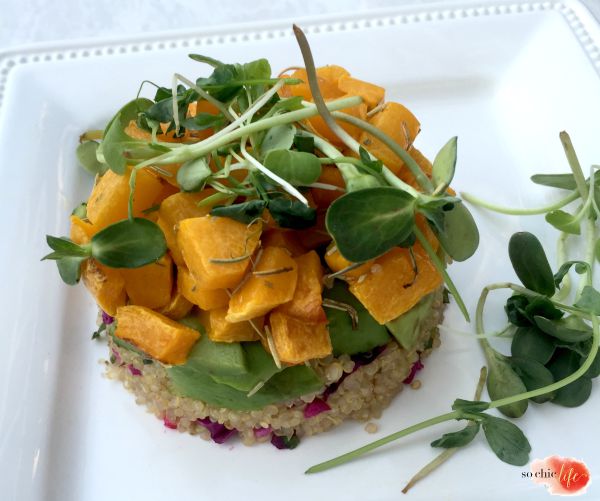 quinoa, butternut squash, avocado timbale stacks
Ingredients
2 cups butternut squash, cubed
2 tsp coconut oil
½ tbs dried rosemary, crushed
Sea Salt to taste
Ground Black Pepper to taste
1 cup quinoa, soaked overnight and rinsed well
2 cups low sodium vegetable broth
1½ tbs lime juice
2½ tbs minced parsley
1 tsp minced fresh basil
¼ cup finely minced purple cabbage
1 large or 2 small avocados diced
several handfuls of micro greens (optional)
Instructions
Preheat oven to 375 F and grease baking sheet with coconut oil.
Toss cubed squash with coconut oil, rosemary, sea salt and pepper.
Bake for 20 mins, stir then back for another 20 mins.
While squash is roasting, cook quinoa in vegetable broth for 12 minutes or until soft and fluffy.
Add to mixing bowl and mix in lime juice, parsley, basil and cabbage. Season with sea salt and pepper to taste. Set to side.
Assemble Timables
Take an 8 ounce ramekin, grease lightly with coconut oil.
Use one-third of the squash and pack in gently.
Next add one-third of the diced avocado, then push one-one third of the quinoa mixture down into ramekin. Press down again.
Gently flip the ramekin upside down onto a plate. Repeat for each bowl.
Top each with generous portion of micro greens (Optional)
For more flavorful vegetarian recipes I highly recommend checking out The Beauty Detox book. I've learned a lot and the recipes are attainable and delicious. It's a great way to get started exploring healthy food options.