It's been a few months since we added Relativity Textiles wallpaper to our powder room and I'm so excited to share the results. Wallpaper is my jam and it's such a great way to add texture to any room. It was alway my intention to do something special to the walls of this tiny space, but we ran out of time before moving in.
Finding Meg Made. Both are where it's at when it comes to Chicago furniture and interior design.
Why Relativity Textiles? Erin, mother of two, started the company by raising over $20,000 in a Kickstarter Campaign and personally designs each hand drawn pattern using inspiration from historical textiles and global textiles like African prints, Japanese shibori, indigo dyeing and Moroccan carpets.
The drawings are digitized, made into films then exposed to screens. Their printing process involves a semi-automated press and is hand registered by local artisans who have been printing wallpaper since the 1970's.
Erin is so passionate about helping her clients find the perfect wallpaper for their home she offers a complimentary consultation. But more importantly her wallpapers speak for themselves.
This is the before which is the view from the kitchen.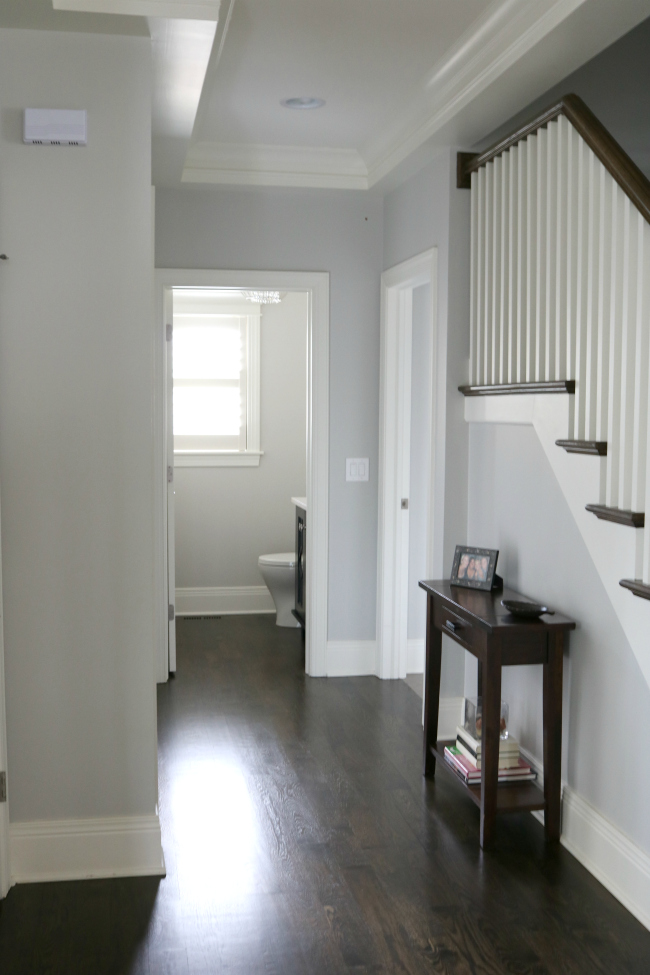 So let's address the elephant in the room – that table is too small and not the right style and our paint colors have no dimension. You can't tell but the powder room is a different color from the hallway but they look the exact same.
Am I Right? Everyday staring into that blank room was making me crazy. Selecting paint colors for an entire home at the same time is no easy task. I had no idea that Sherwin Williams Agreeable Gray (bathroom paint color) would be this close.
After adding wallpaper, we no longer have that problem!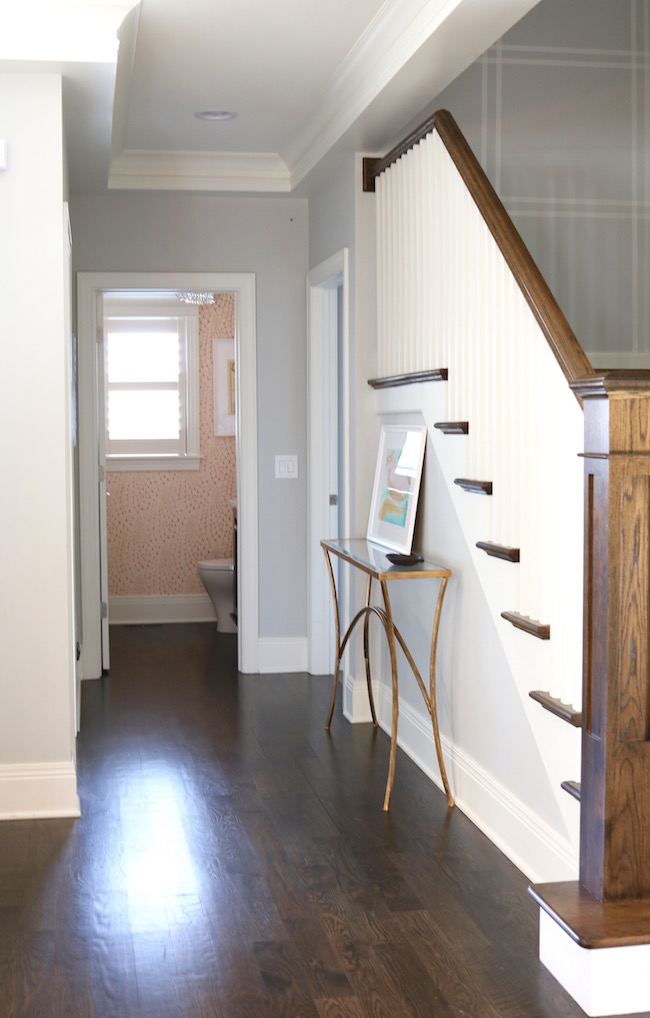 We purchased a new powder room and it has completely transformed this area of our home.
It wasn't easy choosing a pattern from Relativity Textiles because I wanted it all, but Erin was spot on recommending the Peacock Blush. My only condition was everything had to stay as is – mirror, lighting, faucet and cabinet hardware.
I really wanted something interesting, unique and with a pop of color. Our entire home has turned into a dark blue, gray, white abyss and we desperately needed a place to bring in another accent color. Adding a few accent pieces to the family room has helped but we needed more!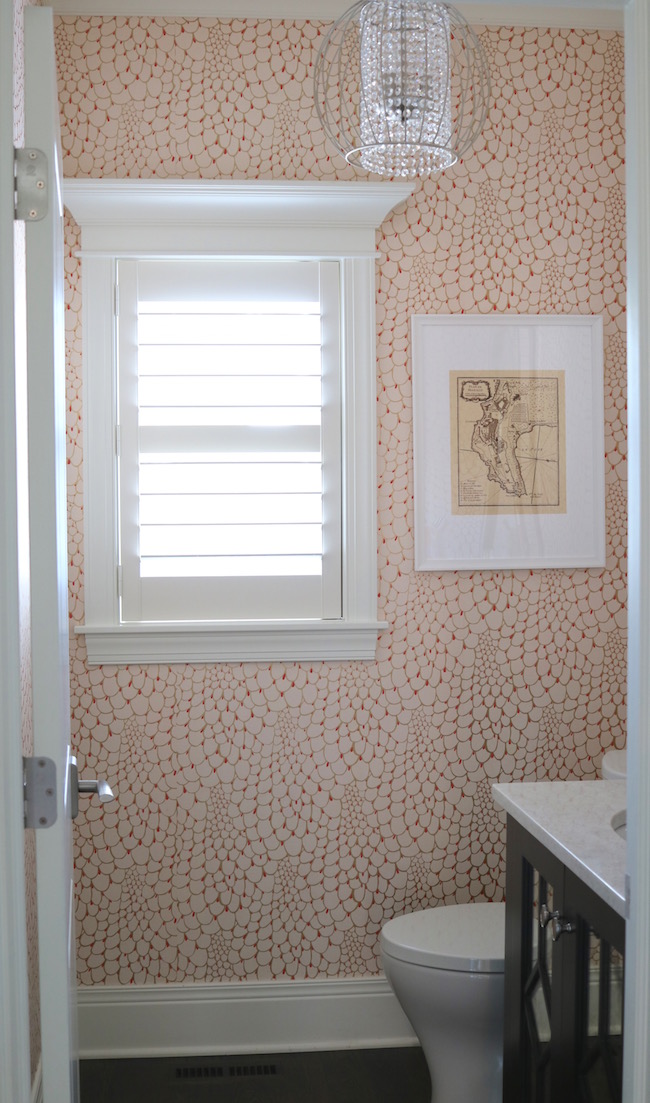 I was dying to bring in blush and coral and the Peacock Blush set the foundation.
When Erin suggested this wallpaper, she really pushed me out of my comfort zone. Not only were we bringing in a completely different color pallette – it was the same pattern (Peacock Slate) that I had my heart set on for the entry wall (more on that soon).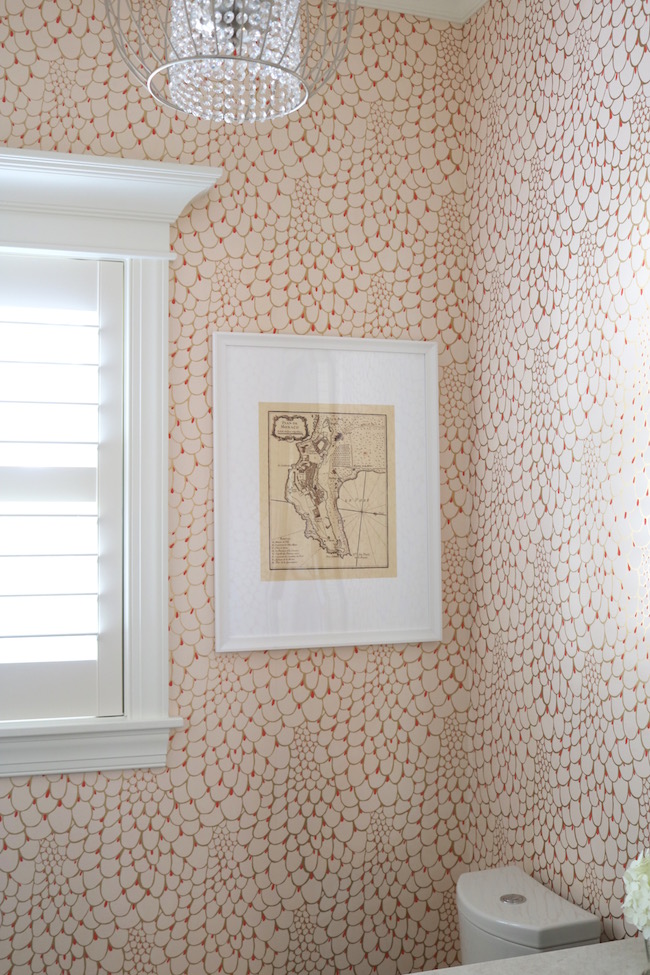 I'm learning when it comes to design, you really have to trust the ones you hire and that's not easy to do. Everyone has an opinion and it's easy to get overwhelmed and confused resulting in never making a decision.
We are thrilled with the results and couldn't be happier. The quality of Relativity Textiles papers is luxurious. The images don't even do it justice.
Thank you Erin and her team (did I mention she did the install?) for bringing our tiny powder room to life and giving it so much warmth, character and making it glam!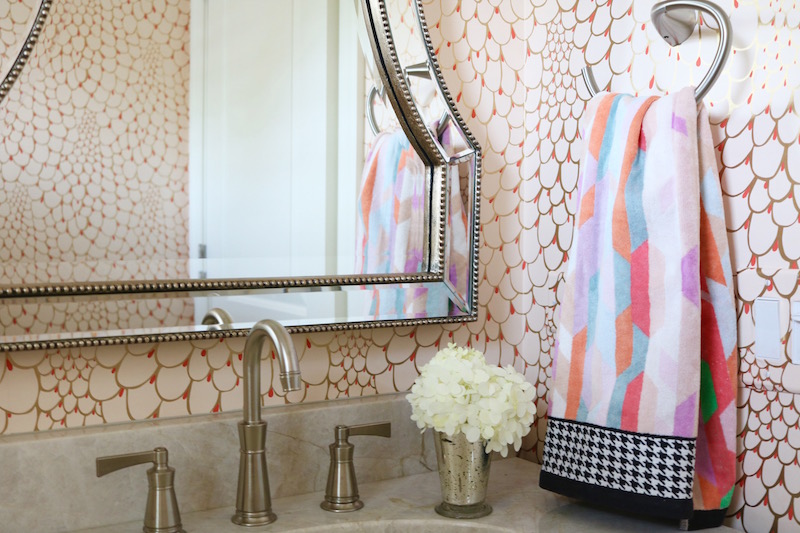 Be sure to check out Mom Boss. I'm officially obsessed and I know you will be too!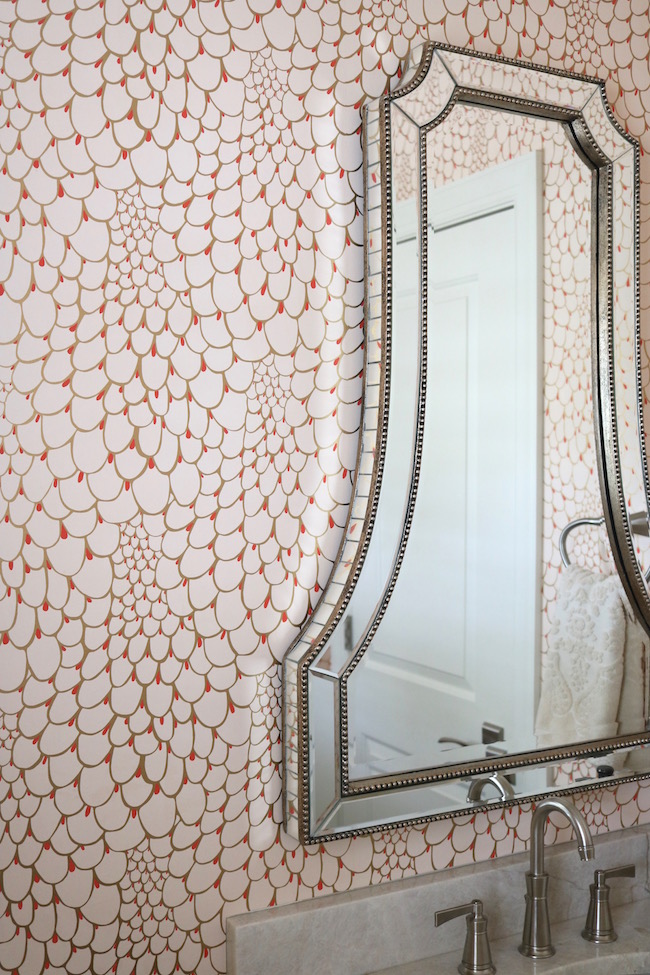 Bathroom Resources: 
Chandelier 
If this post was helpful would love for you to share on Pinterest! You can also follow me on here!
This post does contain affiliate links. If you click and purchase any of the recommended products I will receive a small commission that goes towards running So Chic Life.