Sharing the "before" and "after" makeover of my teen girl's boho chic bedroom!
Designing a bedroom for a teenage girl is not easy. Let's just say someone is VERY picky and doesn't want my input. Lauren wanted something more mature and we wanted a design that was reasonably priced.
Originally when we moved to TN, her bedroom was directly above our master. Less than six months later I'd reached my limit with constant stomping to and from the bathroom and late night sleepovers with friends. The easiest solution was to move across the hall to the guest room. This would give her more privacy and no more waking me up in the middle of the night.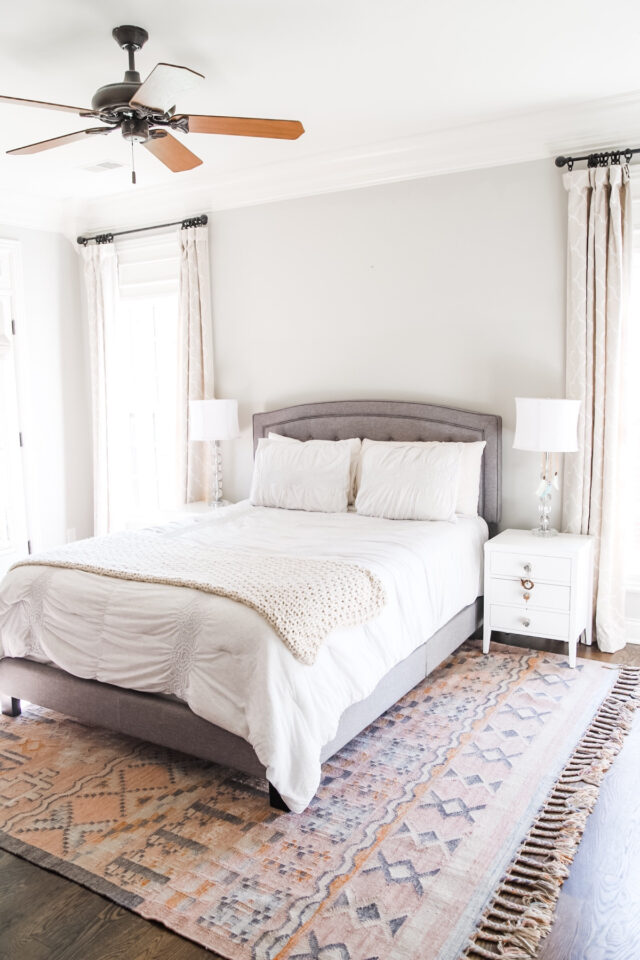 The first step was painting the walls Benjamin Moore Simply White. This has became my favorite shade of white since using it in a bedroom and laundry room in our IL home. It goes well with Sherwin Williams Dover White (trim color) that pulls more yellow. I can't see yellow in Simply White but it's very obvious in Dover White which kinda drives me crazy when it's paired with certain colors.
After painting, Lauren and I couldn't agree on wallpaper or bedding so it was time to call in an experts. Thankfully my friend Katie who is part owner/designer for Haven Homes 615 and lives in our neighborhood offered to take over.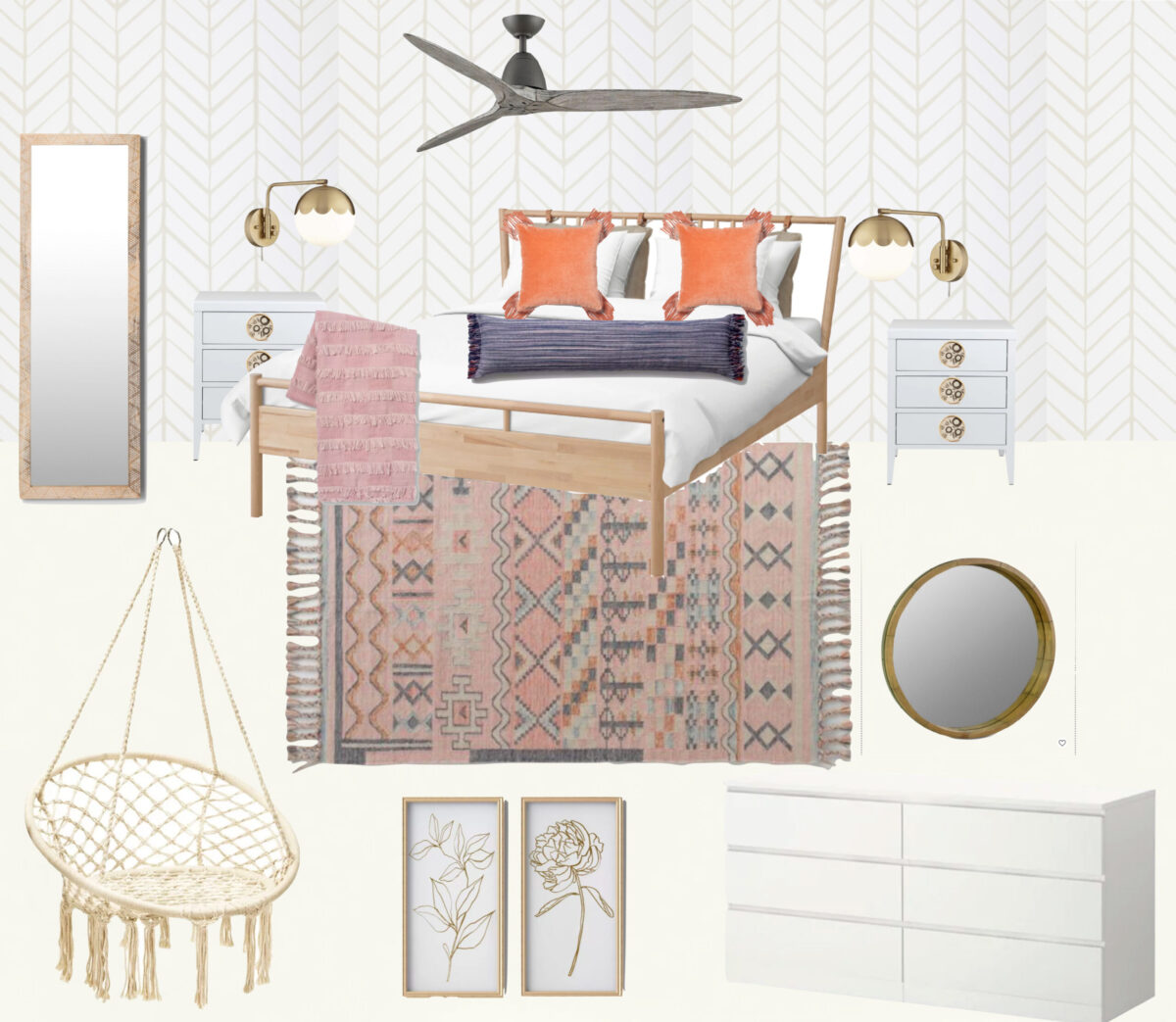 Within a few days she sent over the design inspiration and it was perfect! Lauren loved everything Katie & Ashley suggested. And per usual, I would have NEVER pulled any of this together on my own. Not to mention countless hours arguing with a teenager.
They are so talented and easy to work with. Be sure to check out Haven Homes 615 on Instagram and call them for any type of design projects. If you're not located in the Nashville area, they offer e-design services too.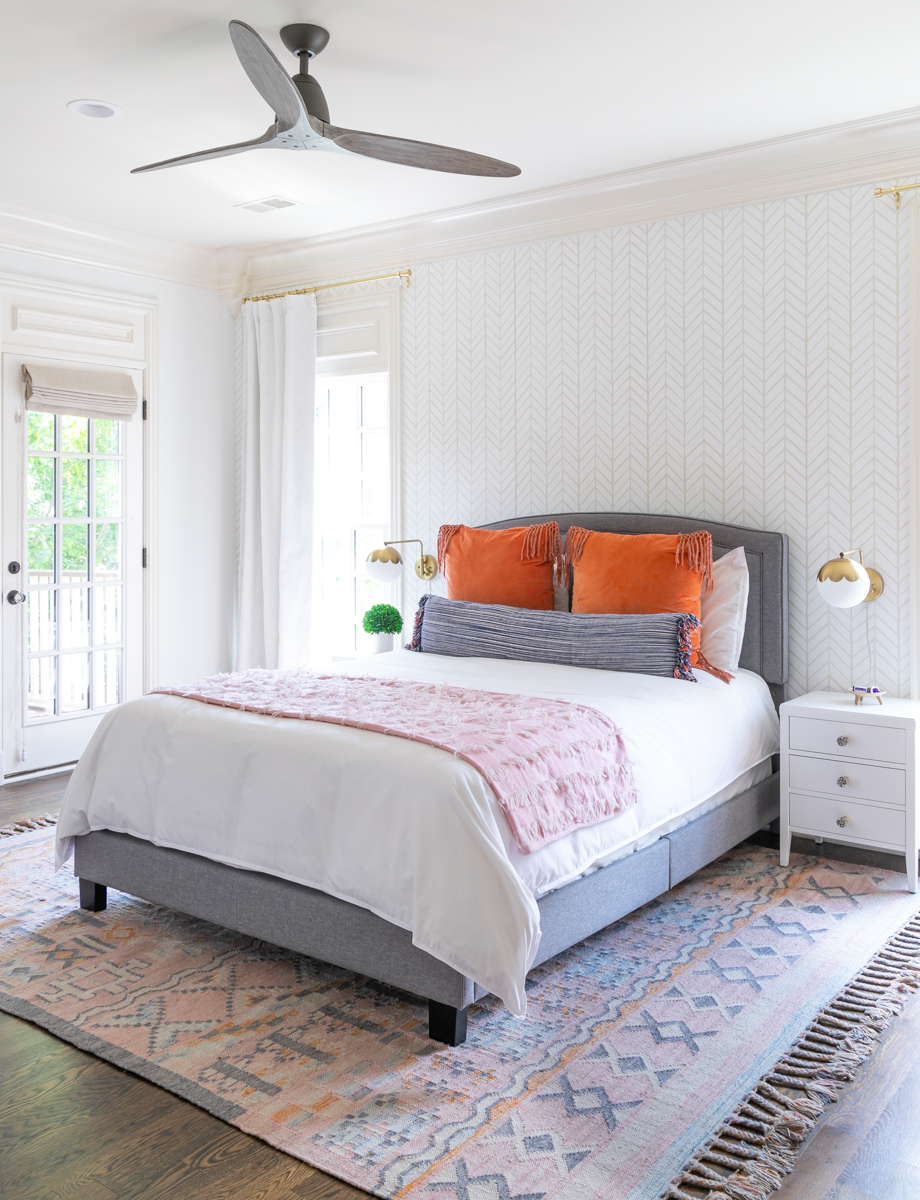 The rug was a recent purchase we wanted to include and changing the bed frame will happen in a few months. I actually don't mind the gray bed – it still works and why spend the money! I get a lot of messages about this rug. As much as I love it and it's gorgeous I would recommend layering it over a larger rug or carpet. I'm searching for a rug pad that will keep it secure, especially the tassels that slip on the hardwood flooring.
The Serena and Lily wallpaper (Bone color) turned out to be my favorite part of the room. We installed ourselves which is probably why I love it so much. Wish I could say it was easy but not so much. I may need to do a separate post detailing how we pulled this off. There are days I walk in expecting the strips to be hanging over the bed but so far so good!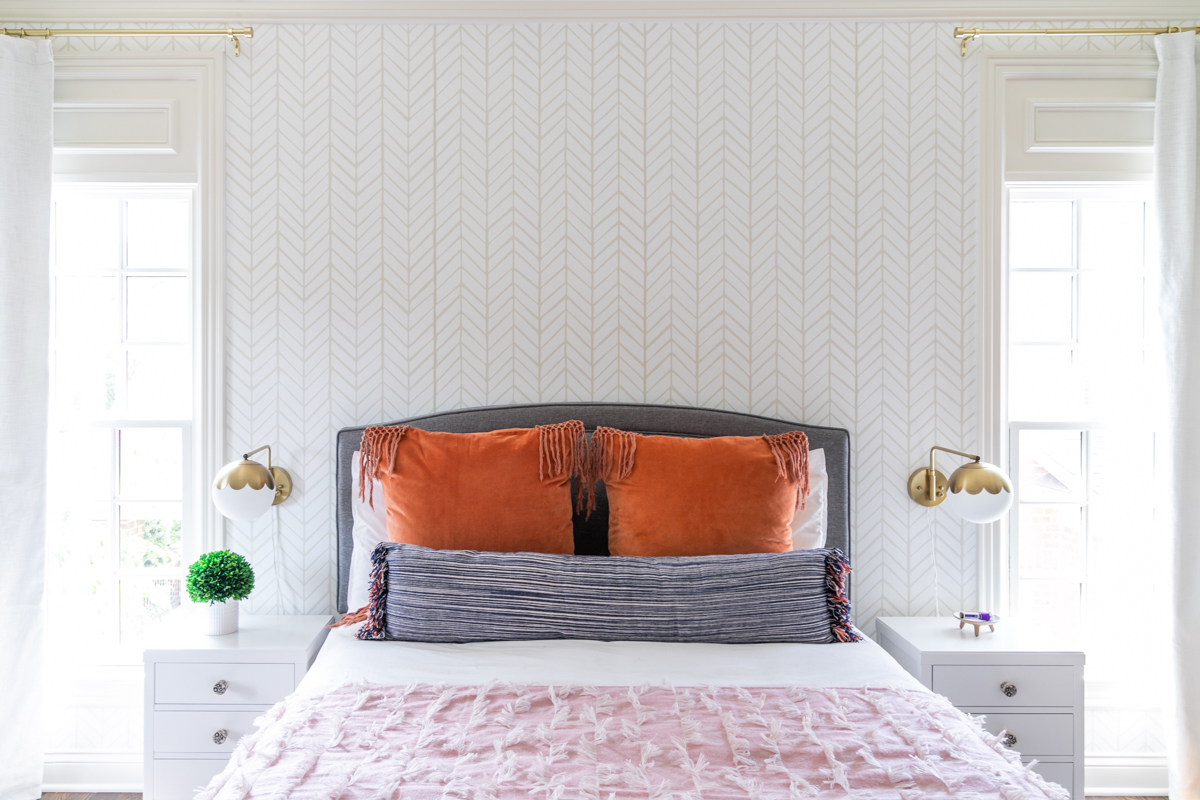 The white night stands are from my younger daughter's Illinois bedroom. She wasn't happy to give these up but they worked perfectly and she no longer had space in her current bedroom. We changed out the original plain black knobs to black and gold. It's such an easy way to add interest.
I'm obsessed with the throw pillows. Sadly Target is sold out in the euro and lumbar pillows but I always sign up for the email alerts should things come back in stock and they usually do. I drove all the way to Nashville to snag these a few months ago. I love how the coral and blue pulls from the rug but not an exact match. It's the perfect pop of color with the muted tones on the floor.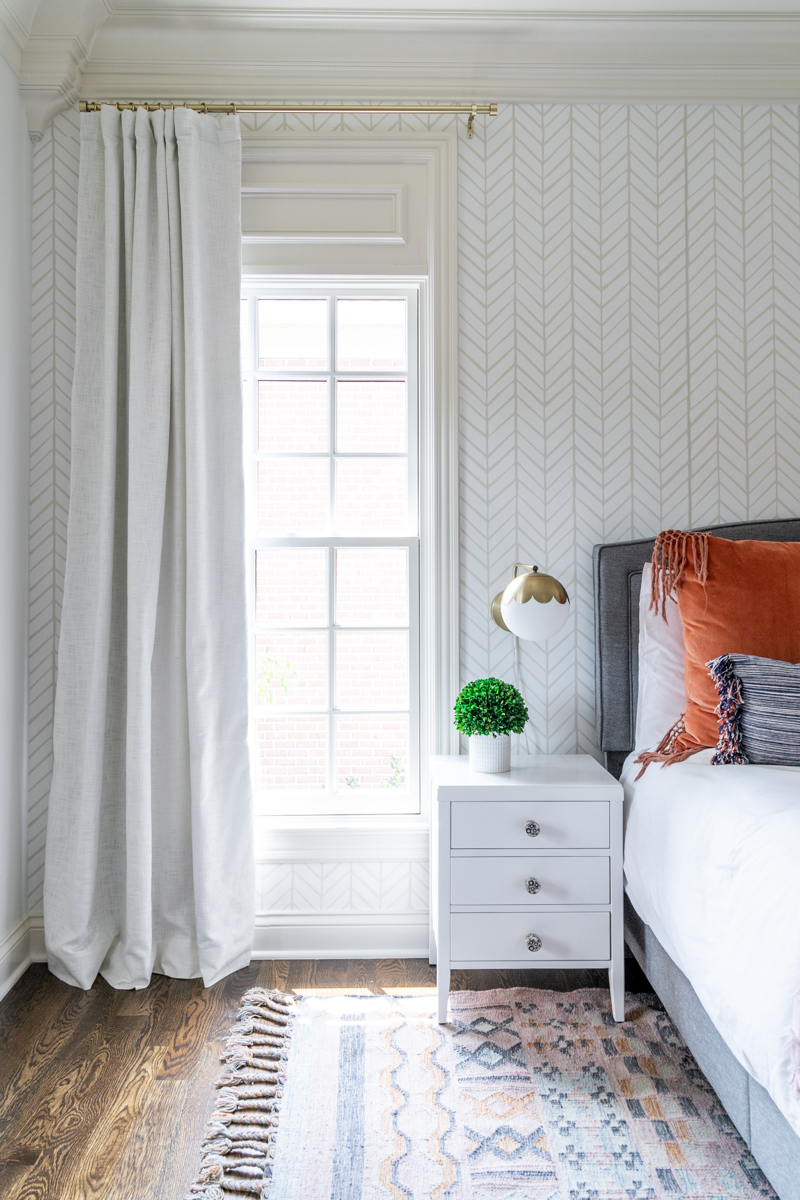 And how cute are those scalloped sconces?? Sophisticated but also playful!
What girl doesn't want a hanging chair? I would LOVE to splurge on the Serena & Lily rattan hanging chair but spending that much doesn't seem practical. A few years ago I paid almost $300 for a Pottery Barn faux fur bean bag chair and she sat on it twice. No thanks.
Hammock chairs are an awesome and inexpensive way to get the look without spending a ton. Many retailers carry similar versions but be sure the hanging hardware is included. This was our second purchase.
I spray painted the chain gold but might be changing it out to twisted sisal rope at some point but for now it works.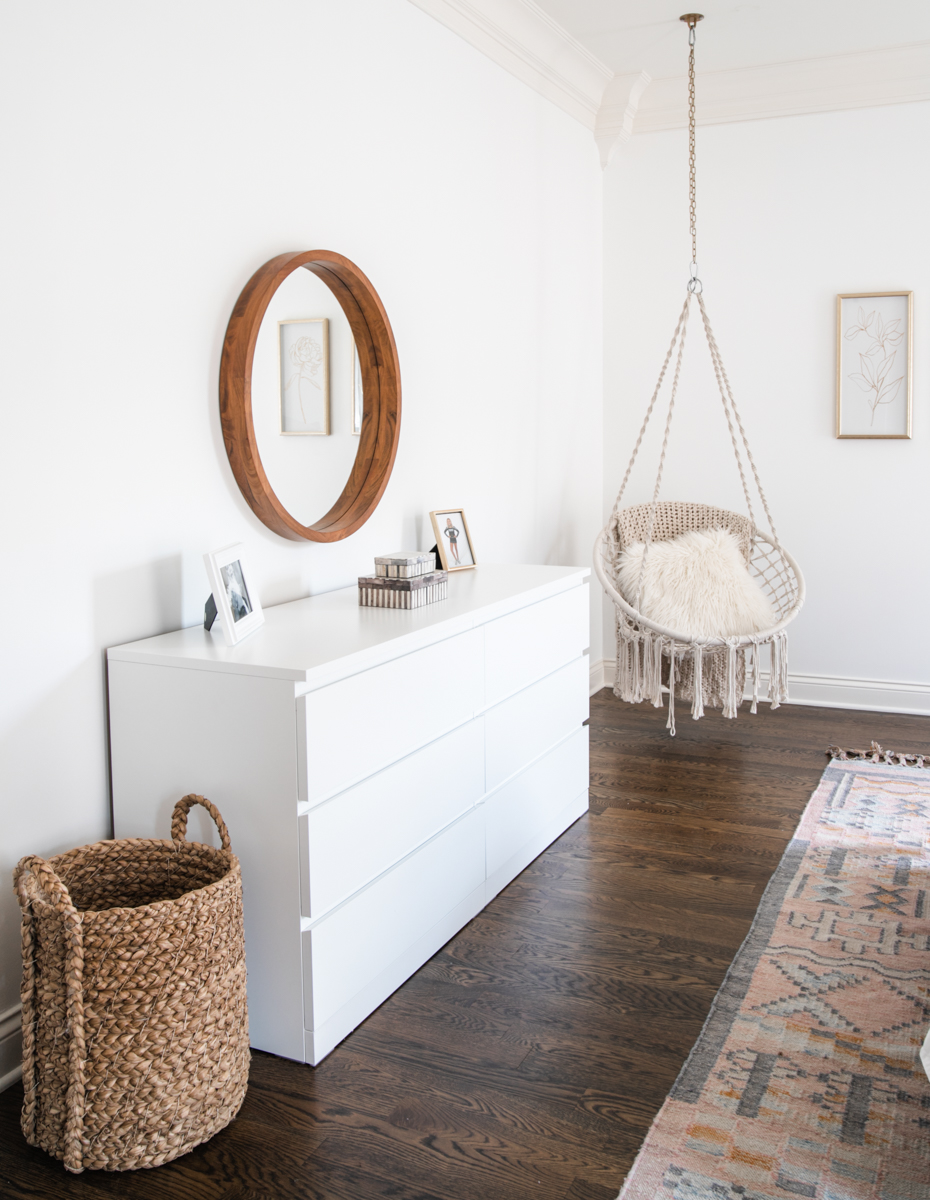 Saving the best for last….pulling it all together is the DIY barn door my husband built for the bathroom. We removed the bathroom door that opened into the shower door. Not sure who thought this was a good idea but it made more sense to take it out. The paint color is Sherwin Williams Feather White and perfect match with the rug. Adds just a little pop of color on that wall!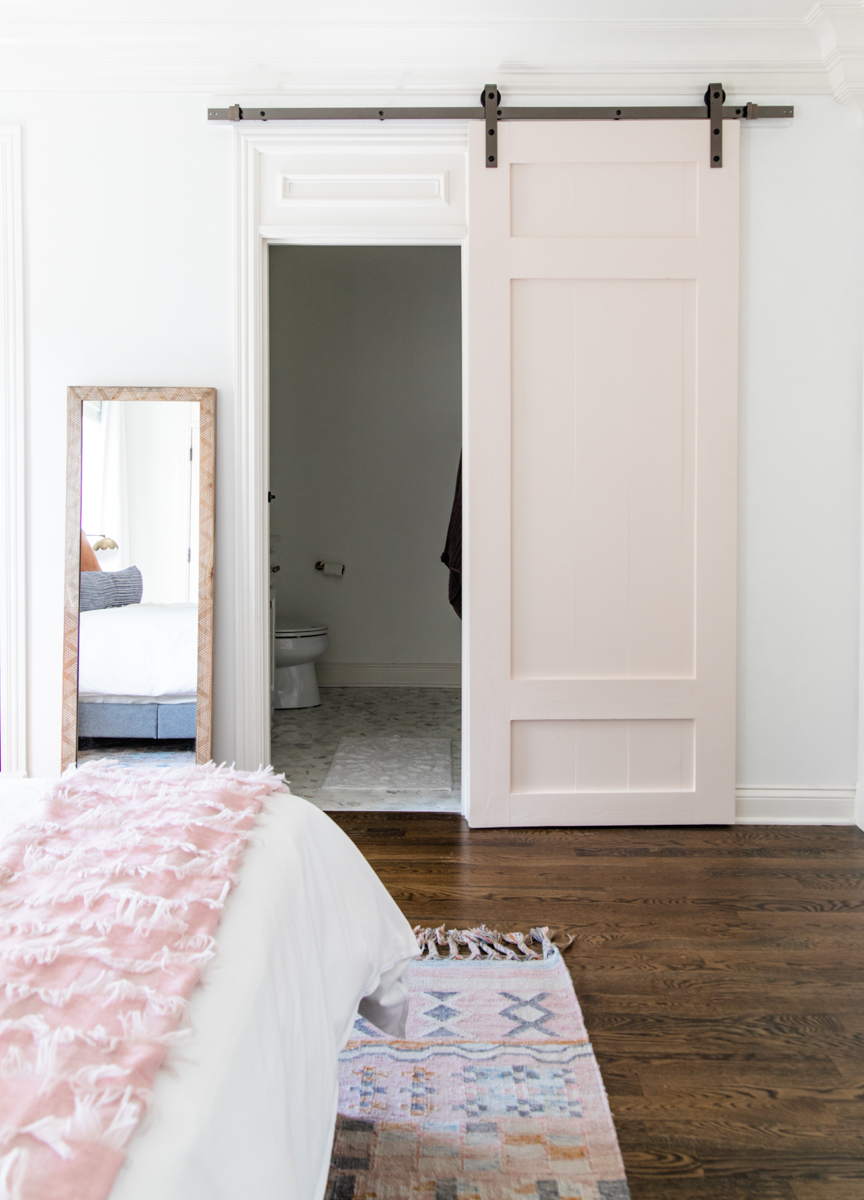 We're couldn't be happier with the way the boho chic bedroom design turned out! Now on to the next project…..
Tween Girl Bedroom Décor Source List
Paint Color: Benjamin Moore Simply White
Wallpaper | Gray Wood Ceiling Fan | Scalloped Gold Wall Sconce
Duvet Cover  | White Cotton Drapes | Gold Curtain Rod + Gold Curtain Rings
Coral Euro Pillows (sold out) | Lumbar Pillow | Blush Throw Blanket 
Braided Basket| Kilim Rug | Round Wood Mirror | Wood Floor Length Mirror
White Six Draw Dresser | Gray Upholstered Bed | Wood Bed
Hanging Chair | Gold Floral Art | White Night Stands | Black and Gold Knobs | Bronze Barn Door Track
More Chic Home Posts You May Like
Kitchen Reveal: Tin Tile Ceilings
How to Paint Pottery Barn Furniture
If this post was helpful would love for you to share on Pinterest! You can also follow on Facebook, Twitter, Pinterest and Instagram. Sign up for our monthly newsletter and never miss a post here!
This post does contain affiliate links. If you click and purchase any of the recommended products I will receive a small commission that goes towards running So Chic Life.
Shop the Post